STAY POSITIVE CLASSIC EVENT RECAPS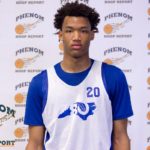 There are several other rising sophomores that will be big names in college basketball this season in the Atlantic Coast Conference. Here is a list of players that we will have our eyes on.
read more
Session 3 wrapped up our Phenom's Summer Jam Series of June team camps. We had teams from around the region (North Carolina, South Carolina and Virginia) step up and compete and it was a great opportunity. Some kids stepped up, and some showed out. Many did what we knew they could and some teams really played above and beyond. It was a great month. All three events SOLD OUT and here are the top...
read more