STAY POSITIVE CLASSIC EVENT RECAPS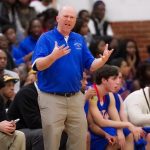 On Monday, Phenom Hoops had the opportunity to travel down to Charlotte and watch North Meck practice. Coach Duane Lewis is one of the best coaches in the state. He has done an exceptional job with his teams every year. Last year, North Meck won the state championship and finished top 25 in the country. We were extremely impressed with how Coach Lewis ran his practice. His players competed...
read more
Coach Duane Lewis (North Mecklenburg) Wins Career No. 400 Coach Duane Lewis secured career win no. 400 with North Mecklenburg's 69-46 win over Mooreville High School Friday night. Duane Lewis is what North Mecklenburg basketball is all about. Lewis played there and wouldn't coach anywhere else, coaching at his alma mater is his "dream job." You see, Coach Duane Lewis...
read more