STAY POSITIVE CLASSIC EVENT RECAPS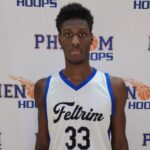 2023 Marcus Overstreet (Feltrim): Overstreet may have been my favorite big man to watch, as he was incredibly productive, showcased his ability and impact at 6'9, and really filled it up around the basket. Overstreet simply catches your eye with his motor and activity around the basket, cleaning up on the glass, scoring effectively at the rim or around defenders, running the floor, and making...
read more
2023 Corey Gibbs (Kingsmen Academy): Gibbs impressed with his strong play today when watching him on the Arena court, as he went for 23 points in the game and scored in a variety of ways. He was aggressive in getting downhill, creating off the dribble and getting into the paint, but also knocked down shots from a variety of levels with confidence. 2023 Marcus Overstreet (Feltrim Academy...
read more