STAY POSITIVE CLASSIC EVENT RECAPS
Team 5 Coach: Delmar Patterson #5: 5'11 '23 Arturo Overton (Lower Richland) Starting things off, we look at a player who simply knows how to lead and set the tone by example, Arturo Overton. He's a smart, unselfish point guard prospect with a balanced approach between scoring and playmaking. Overton is a reliable penetrator with a strong midrange pull-up and the ability to set up others...
read more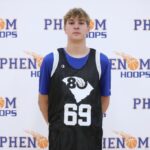 What a great event it was this past weekend, with Phenom Hoops bringing in some of the top talents from South Carolina all under one building. A state that has been rich with talent but at times goes under the radar, it seems like there are some players to be found and we are looking to highlight that even more. 2024 Caden Kreger is a player that really opened our eyes this summer during...
read more