STAY POSITIVE CLASSIC EVENT RECAPS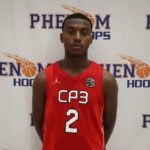 This weekend, Phenom Hoops took it to the great city of Rock Hill to host the Phenom Grassroots Tournament of Champions. Teams from all over the country came to participate and college coaches were in attendance. The talent level was through the roof, and these are the top players that I saw: 6'2 Jaden Bradley of Team CP3 17U was perhaps the most impressive player in the gym. Sometimes when...
read more
2023 Joseph Bachman (Garner Road Davis 16u): Bachman quickly caught our eyes with his activity level on both ends. Always seems to be moving, running the floor in transition, and makes the smart/right play on the court. Really liked his quick decision making down low, finishing well around the rim. 2023 Jordan Durham (Garner Road Davis 16u): Durham continues to progress in his development...
read more