STAY POSITIVE CLASSIC EVENT RECAPS
Here is a list of the top performances from the Tyler Lewis Hoop Fest presented by Fit for Life 24. Calvary DayJaydin Spillman – 12 points, 11 rebounds, 1 assist, 1 block and 4 steals on Saturday. Isaiah Ramazani – 12 points, 6 rebounds and 4 assists on Saturday. Carmel ChristianKaleb Siler – 20 points and 6 rebounds on Friday. Jaeden Mustaf – 18 points, 7 rebounds, 5...
read more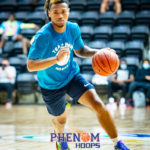 Below is a list of the top players watched from the previous week of high school action. Bobby Pettiford 6'1 2021 South Granville HS (Louisville Signee) OK3Sports coverage of the Phenom Queen City Showcase on Friday, July 24, 2020 at Rock Hill Sports and Event Center in Rock Hill, OK. Photo: OK3Sports/Olen C. Kelley III Bobby is one of the best lead guards in the country. He is exceptional...
read more