STAY POSITIVE CLASSIC EVENT RECAPS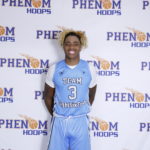 2021 Brandon Cherry (Full Court): Cherry plays with a really good, natural feel for the game on the court. He doesn't force things on the court that aren't there, plays with a nice pace and with his head up, looks to find his teammates but also shows a smooth jumper. 2022 Landon King (Patriots): King is a name that should catch on more in the Charlotte area for Independence. He was able to...
read more
Mallard Creek brings in a new coach in Coach McNeil, as they look to get back on the winning track and make their mark in the Charlotte area. Getting a chance to watch this team during their open gym, this is a program that will look to be faster, pushing the pace and scoring in transition. They will have a chance to spread the floor with the number of guards on the court, but they will have to have a team mentality on the defensive end and on the boards with the lack of size.
read more