STAY POSITIVE CLASSIC EVENT RECAPS
6'7 Saiquone Harris of Juice All-Stars Stephenson 17U is extremely versatile, playing almost all spots on the floor. Very fluid and handles the ball very well for his size. Gets to the basket at will and creates contact. Has a great IQ and can really pass the ball. Showed ability to shoot the ball as well. Rebounds well on both ends of the court and runs the floor. Easy to see why he is a...
read more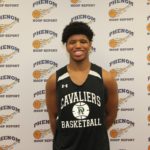 2021 6'2 Lashae Johnson (Charlotte Royals 2021): Johnson was extremely aggressive on the floor, running the floor, constantly getting out and pushing the pace, but also showed his ability to knock down jumpers, hitting four 3-pointers for the Charlotte Royals. 2021 6'0 Cole Sinclair (Durham Hurricanes): A point guard that simply competes.  He is known very well for his outside shooting but you...
read more