STAY POSITIVE CLASSIC EVENT RECAPS
Team 1Video Link: https://www.youtube.com/playlist?list=PLJSuI1FGChQZQh-M4T6BrGtLrrtEZn02N Coach: Ken Potosnakk #0: 5'4 '25 Jalen Mills (Hope Mills) Starting things off, we look at a player that consistently found ways to make his presence felt despite being the smallest prospect on the team, Jalen Mills. He's a young, tough, high-motor guard with a desire to compete and involve himself in...
read more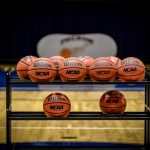 Wakefield went 17-10 last season, but Coach Garrett Stevens returns two of the leading scorers off a senior laden team and is expected big things out of 6'6 rising senior Harper Strickland and 6'2 rising junior Jaxon Brown. Strickland will provide valuable senior leadership and should assume the role of the team's "go to" scorer. 6'6 2021 Harper Strickland Strickland started all 26 games for...
read more