STAY POSITIVE CLASSIC EVENT RECAPS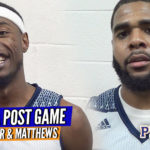 Phenom Hoops caught up with Devin Cooper and Zaqwaun Matthews after their 88-79 victory over Wingate last night. The duo combined for 43 points and talked to us about how the game went, team philosophy, and the talent surrounding them this season.
read more
Head coach Rob Perron and Catawba return once again with heavy expectations but also with a chip on their shoulder. After securing a 25-win season last year but coming up short against Queens University of Charlotte in the second round of the 2019 DII men's basketball tournament, the Indians have the talent to make a deep run this year.
read more