STAY POSITIVE CLASSIC EVENT RECAPS
Courtesy: Herdzon.com Last year, Phenom got a terrific chance to head up to West Virginia to check in on Marshall and what they were bringing in during the 2019-20 season. One player that simply caught our eyes immediately and coaches were raving about was then rising sophomore Taevion Kinsey, who we pegged as a rising star. This is coming off a freshman season in which he was named to the...
read more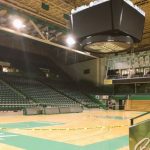 During our Open Gym Tour in West Virginia, we got a sneak preview as well of Marshall University and what the Thundering Herd bring this year on the basketball court. Under head coach Dan D'Antoni, Marshall will look to push the tempo, as they finished averaging 74 possessions per game and Top-10 nationally in adjusted tempo for the fifth consecutive season. With a 23-14 overall record...
read more