PORTER GAUD HOLIDAY CLASSIC EVENT RECAPS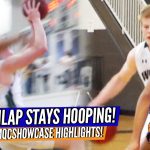 Nate Dunlop will be a hot name this April with the college coaches ... He is a 6'7" forward who can stroke it and has the explosion to get downhill and finish ON YOUR HEAD!
read more
Check out the standouts from Day 1 of the Phenom Queen CIty Showcase, as the talent was impressive on all levels.
read more