PORTER GAUD HOLIDAY CLASSIC EVENT RECAPS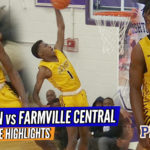 Check out highlights between Broughton High School and Farmville Central at the 2019 John Wall Holiday Invitational. Farmville was led by their BIG 3 in Justin Wright (NCCU), Terquavion Smith (NCSU), and Samage Teel.
read more
The state of North Carolina is blessed with an overabundance of talent. In the North Carolina 2018 class, 60 plus players signed with D1 schools and another 40 plus signed to play at the D2, D3, NAIA or Juco level. Quite impressive numbers! This year, the 2019 class is on the same course to have 100 plus players continue to play at the collegiate level. In our unsigned senior spotlight, we want...
read more