PORTER GAUD HOLIDAY CLASSIC EVENT RECAPS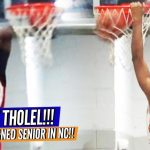 Sure they are Team Loaded NCs "B" Team, but that is certainly not because they are void of any talent. Team Loaded 704 plays exciting and they play wayyy above the rim.
read more
Unsigned Senior Spotlight: 6'7 Rev Tholel The state of North Carolina is blessed with an overabundance of talent. In the North Carolina 2018 class, 60 plus players signed with D1 schools and another 40 plus signed to play at the D2, D3, NAIA or Juco level. Quite impressive numbers! This year, the 2019 class is on the same course to have 100 plus players continue to play at the collegiate...
read more