PORTER GAUD HOLIDAY CLASSIC EVENT RECAPS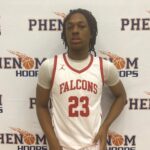 6'6 Jared Davis (Seventy-First) It's genuinely difficult to try and make sense of Jared Davis' lack of recruitment, especially since his production has only taken another leap this season. At 6-foot-6, he sports a strong, physical frame and knows how to utilize it properly on both ends of the floor. Davis is an excellent rebounder who carves out space well, controls the glass, and consistently...
read more
Here is a list of the top performers from the Hoops & Dream Showcase presented by Lucas Moore Realty. Please note these top performers are in alphabetical order by school. Fayetteville Academy6'5 2024 Xavier Johnson: 31 points, 6 rebounds, 3 assists & 2 steals on Friday. 19 points, 1 rebound & 1 assist on Saturday. 6'4 2026 Jossiah Johnson: 22 points, 9 rebounds, 1 assist...
read more