PORTER GAUD HOLIDAY CLASSIC EVENT RECAPS
On Tuesday, Phenom Hoops traveled out to Greensboro, North Carolina for the Haeco Invitational. Formerly the Timco Little Four, this post-Christmas event has been a staple in the city over the last 45 years. During a thrilling first day of games, Dudley narrowly fell to Smith and found themselves in the consolation bracket. Regardless, the Panthers have shown consistent flashes throughout the...
read more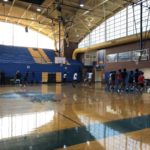 On Thursday, Phenom Hoops traveled out to the heart of Greensboro for another quality open gym session at Dudley High School. The Panthers have seen a variety of talent come through their doors over the years, including some of the best athletes in North Carolina's history. This program has never struggled with getting kids to the next level, as evidenced by their slew of college players in the...
read more