PORTER GAUD HOLIDAY CLASSIC EVENT RECAPS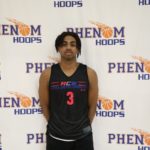 Phenom Hoops went out in Charlotte on Thursday night to check in on the Charlotte Aces program, which brings a ton of intriguing talent that you could see at the next level. But let's dive right into the roster and what we have seen early on this summer and at our recent practice.
read more
Mallard Creek brings in a new coach in Coach McNeil, as they look to get back on the winning track and make their mark in the Charlotte area. Getting a chance to watch this team during their open gym, this is a program that will look to be faster, pushing the pace and scoring in transition. They will have a chance to spread the floor with the number of guards on the court, but they will have to have a team mentality on the defensive end and on the boards with the lack of size.
read more