PORTER GAUD HOLIDAY CLASSIC EVENT RECAPS
On Sunday, Phenom Hoops traveled to the Upward Stars Center in Spartanburg, South Carolina for another absolutely loaded day of basketball.
read more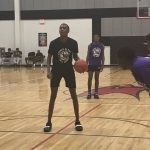 Midlands basketball has always been good, and the community has shown that when there is local talent in the building, they will show out. Such as the case for the Glymph League on Wednesday night as some of the best players in the Midlands area joined together to play in the Glymph Fall League … Let's take a look at who showed out 6'7" 2022 Julian Phillips (Blythewood HS) Phillips is the top...
read more