PORTER GAUD HOLIDAY CLASSIC EVENT RECAPS
Game 3 kicked off as the action continued in Rock Hill. Two teams in North Carolina came down to battle it out, as Carmel Christian and Calvary Day took the court. It was a tight one in the first half, with both teams playing scrappy basketball. Carmel took the early 17-13 lead after the first, led by their big three but it wasn't until the second quarter until they really started to...
read more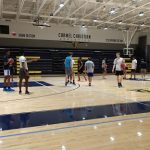 Patrick O'Brien went to Carmel Christian Academy to continue the Phenom Hoops Open Gym, checking out some of the teams around NC early on. See what the Cougars have this season.
read more