To filter articles by a specific event, use the dropdown below.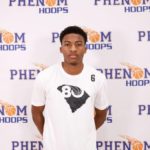 Phenom Hoops continues to hit the road, getting an early glance of teams around the state of North Carolina and the region before the upcoming high school season. Monday night, Patrick O'Brien went out to Westminster Catawba to check in on some well-known talent and a few new names. Last year, Westminster finished with a 16-3 overall record and making a run in the playoffs before...
read more
6'0 2022 Davion Cunningham: Team Loaded 704 McCullough 15U Cunningham was arguably the most impressive prospect in the first game of the day with his ability to attack off the dribble and find open teammates when the defense collapses on him.  He plays the game with a high level of relentlessness, constantly in attack mode, leaving defenders on their heels and often in the dust.  It'll be...
read more