To filter articles by a specific event, use the dropdown below.
Just because the LIVE period is over in April, doesn't mean that Phenom Hoops is stopping their coverage, as we are bringing you a ton of post-event coverage as well throughout the coming weeks. Let's dive into a few players and teams that we saw at the event, as we shed light on players that performed well throughout. Team Loaded 336 Each time we have viewed this team and program, they...
read more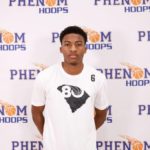 2022 Spencer Hairston (Gate City Grizzlies): This young man simply continues to produce and be an offensive scoring machine. Which is why he should be one to really watch coming into North Carolina and playing at Dudley this season. He has the quickness and ability to create for himself but he can be deadly from the perimeter. Scored 29 points to lead the charge again, something he has...
read more