To filter articles by a specific event, use the dropdown below.
Team 2 Coach: Galvani #3: 5'4 '22 Gracie Wilson (Rock Hill) Starting things off, we look at a player that offered a pretty useful balance between scoring and playmaking, Gracie Wilson. She's an unselfish, high-motor point guard prospect with nice defensive prowess and a reliable midrange pull-up. Wilson can also attack the basket or knock down three-pointers within the flow of the offense....
read more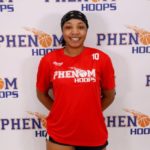 5'11  Keonna Bryant 2021 was very dominant today as she led her team offensively. She has the body to go along with the skillset that allows her to take over games with ease. She is relentless in the paint, operating very efficiently and scoring at will around the basket. She also possesses the ability to spread the floor and knock down open threes. Regardless of her offensive dominance in...
read more