To filter articles by a specific event, use the dropdown below.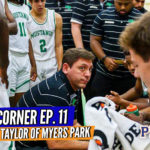 Myers Park head coach Scott Taylor is on deck for the latest Coach's Corner. Taylor's ride to be a head coach has been a fun one, once being a scholarship manager at Florida State, to being an assistant coach at Queens, to now being the head coach at Myers Park. What lessons did he learn and what were some of the adjustments he had to make. Now a successful coach for the Mustangs, he looks at his previous three years of success, what Drake Maye has provided to the program, and who has been the biggest impact for him as a coach?
read more
Myers Park Captures important Southwestern 4A Conference Win Phenom Hoops travelled to Charlotte, North Carolina to cover the important early season Southwestern 4A Conference game between Butler High School and Myers Park High School. Butler entered the contest with a 2-4 record, but three of the losses came on last second shots where Butler lost by a single point in each. For head coach Myron...
read more