To filter articles by a specific event, use the dropdown below.
Check out part of Derrykc Thorton's media day interview last week in Charlotte, NC. Listen to why he chose to come back to the ACC and what he expects from this season.
read more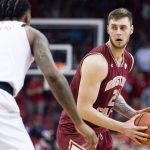 Boston College and Jim Christian come back in hopes of improving from last year's 14-17 overall record and 5-13 in ACC play.  In the last five seasons, the Eagles have only secured more than five wins in the ACC once in 2018, in which they made an appearance in the NIT. The Eagles are hoping to make the right strides this year but it won't be easy.  They lost two key scorers in Ky Bowman and...
read more