To filter articles by a specific event, use the dropdown below.
Phenom Hoops continues their open gym tour, this time getting a treat to check in on Victory Christian, as Coach Dilligard brings in new names along with seniors with experience. There should be a lot of excitement around the program this year and they will have their chance to shine against a national schedule. Check out who we watched in the open gym, as this is going to be a program college coaches will want to get on quickly.
read more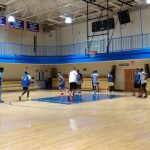 Heading out for an early morning practice, Phenom Hoop Report hit the gym once again in Charlotte, traveling to Victory Christian to get a glimpse of what head coach Marcus Dilligard was working with this year for the Kings. It seems that they will have a nice blend of athleticism, size, and experience this year, as they look to improve from their 18-12 record last year.  Check out the roster...
read more