To filter articles by a specific event, use the dropdown below.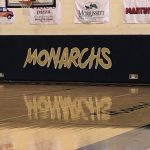 Well, for the next several Saturdays, basketball audiences in Richmond, VA will have the opportunity to catch some early high school hoops, if yearning for the 2019-20 season to soon get here. The Monarchs of Meadowbrook High School (Chesterfield, VA) are back to host their annual preseason fall league; bringing in multiple public and private school programs from around the 804. This same...
read more
Twitter & Instagram: @famous_zeke *Photo taken by Phenom Hoops co-worker, Frank Bennett. Having now been associated with the Phenom Hoops team for a full year, I can recall one of the first Richmond, VA high school varsity programs I became familiar with dating back to Fall 2018: Meadowbrook High School (Chesterfield, VA). The 804 public school welcomed me with open arms...
read more