To filter articles by a specific event, use the dropdown below.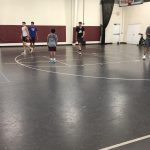 Twitter: @ STABHoops St. Anne's Belfield School (Charlottesville, VA) Conference: Virginia Prep League (VPL) Classification: Virginia Independent Schools Athletic Association (VISAA) Division I 2018-19 overall record: 17-11 (9-3 in conference) Being one of the primary private school conferences that I scouted last season, the VPL contains seven programs within Central/Southern...
read more
Twitter & Instagram: @kbounce_04 The other week, I came across an online 60-second clip produced by 'Ballislife.com' that solely featured defensive plays made by a high school prospect, whose name I did not learn. I, along with others, deem this as a pretty rare occurrence; considering the majority of basketball mixtapes tend to showcase guys getting their buckets. Regardless, the...
read more