To filter articles by a specific event, use the dropdown below.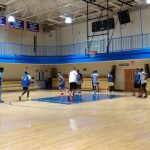 Heading out for an early morning practice, Phenom Hoop Report hit the gym once again in Charlotte, traveling to Victory Christian to get a glimpse of what head coach Marcus Dilligard was working with this year for the Kings. It seems that they will have a nice blend of athleticism, size, and experience this year, as they look to improve from their 18-12 record last year.  Check out the roster...
read more
After another day of hoops at Greensboro Day School, here are my stand out players from Day 2 at the NCISAA Summer Showcase Session I.
read more