To filter articles by a specific event, use the dropdown below.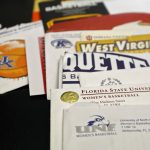 It's now in the middle of July, where the summer heat has risen and the 2019 travel basketball season will soon come to a close for everyone participating. The second half of this past week (7/11 – 7/14) included the last 'live period' for the year, being an open window in which NCAA Division I coaches can attend events to scout potential prospects. Several renowned tournaments...
read more
His game was just taking off. Boggs had found his role on the PSB Elite team and he was just starting to showcase his Division 1 talent. You see two years earlier Boggs shot up from 6'2" to 6'7". The previous year, at Carmel Christian, Boggs was the starting big for NCISAA 2A State Champion. Head Coach Byron Dinkins did a great job of running a 5-out system and getting Boggs his touches, but...
read more