To filter articles by a specific event, use the dropdown below.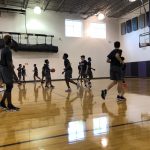 There's a lot of turnover for the Chargers of Cox Mill. Duke Freshman Wendell Moore, UNC Charlotte Freshman Caleb Stone Carrawell, and Charleston Southern Freshman (Football) Cody Cline all carried the program to new heights in their time at the school. Head Coach Jody Barbee has moved on as well, leaving former West Brunswick Coach Ty Johnson to take the reins in Concord as Cox Mill looks...
read more
This weekend at the Phenom Challenge LIVE event, there was a boatload of standout players and teams. I had the privilege to cover games at Bob Jones University and Broome High School where there were some fierce competition and individual talent. Let's get right to it with my top 5 players I saw this weekend.
read more