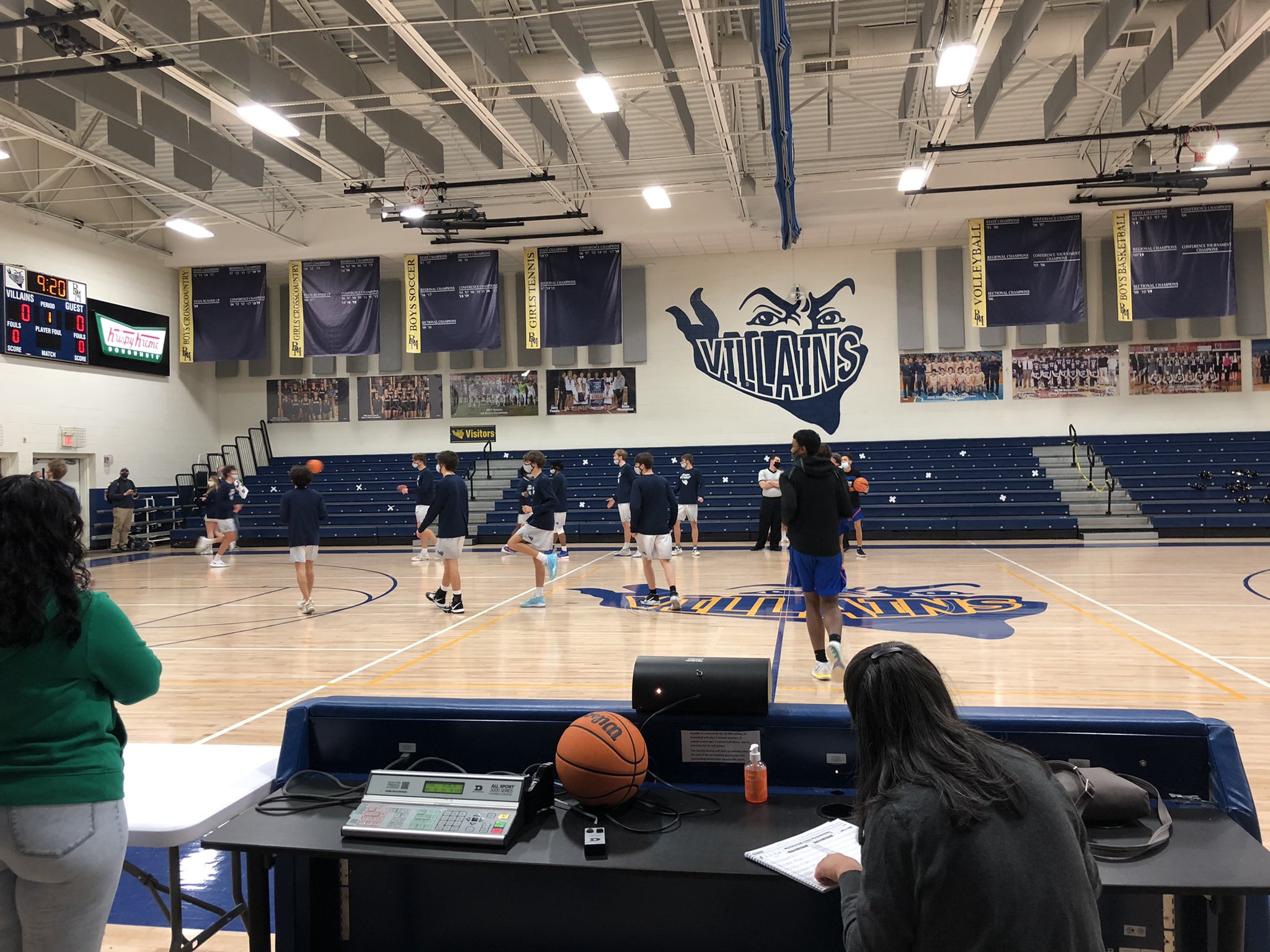 On Thursday, Phenom Hoops traveled out to Bishop McGuinness in Kernersville, North Carolina, as the Villains prepared to host the Yellowjackets of Lexington Senior High School. Despite losing their undisputed two-way leader in Alex Holt, Lexington has found some solid success behind veteran wing Micah Williams. On the other side, the Villains have proven themselves capable of competing with all types of opponents throughout the years. The stage was set for an exciting battle to take place…
Things kicked off in a sluggish, fairly one-sided manner in favor of the Yellowjackets. From the opening tip, Lexington made a point to be the aggressor. They put together a strong early lead behind all-around play from Williams and multiple big shots from Matt Liles. After establishing a 15-7 advantage in the first quarter, Lexington appeared to lose some momentum and subsequently took their foot off of the gas. This shift allowed for Bishop to string together a winning quarter and enter the break only trailing 24-21. The Villains then proceeded to take full control after halftime, securing the lead and never looking back. They held the Yellowjackets to single-digit scoring for majority of the second half, which ultimately allowed Bishop McGuinness to claim a 52-42 victory over Lexington Senior.
Bishop McGuinness:
6'4 '22 Dawson McAlhany
Despite nursing a hand injury, McAlhany still found ways to make his presence felt as a two-way leader for this group. He didn't shoot his usual percentage from the floor, but made an excellent impact as a rebounder and continually adjusted his approach to fit within the team concept. Often times, McAlhany defended the best opposing player and displayed solid resistance on that end of the floor. He possesses IQ and a smooth downhill game with skill, vision, and athleticism. Additionally, his wiry frame has turned into strength over the last six months—which should only make him more overwhelming for opponents over the foreseeable future. Final stats: 9 points, 10 rebounds, and 1 steal.
6'0 '21 Jeremiah Manley
With all their previous ball-handlers gone, Manley regularly finds himself in a position as a main creator for this group. He displays a quick first step, which allows him to touch the paint and make plays for himself and others. Manley can finish, draw fouls, or make kick-outs to open teammates while also being a pest defensively. Final stats: 11 points, 4 assists, and 1 steal.
6'7 '21 Thomas Markun and 6'6 '21 Noah Allred
The interior duo actively toggled between manning the middle with Markun showing a willingness to do the little things and Allred offering a massive burst in the third quarter. Markun plays a very straightforward game and doesn't try to do too much, simply playing hard and making hustle plays on both ends of the floor. Meanwhile, Allred is capable of operating inside or spacing the floor when necessary. He also fought for rebounds and make his presence felt defensively. Markun: 5 points and 7 rebounds. Allred: 7 points and 5 rebounds.
Lexington:
6'3 '21 Micah Williams
Arguably the most productive and versatile all-around performer for either team, it truly was a shame to see Williams foul out prior to the fourth quarter. He led his team in virtually all facets of the game, setting the tone on both ends of the floor and working to seize every possession. Williams had some struggles offensively, but still found ways to create for others, dominate the glass (despite being a wing), and make a ton of plays defensively. He's also more than capable in the open floor, both with and without the ball. Williams could be a fairly useful asset for the right college program. Final stats: 7 points, 11 rebounds, 2 assists, 3 steals, and 1 block.
5'10 '22 Javien Reid and 5'10 '22 Matt Liles
The slightly undersized guard duo was a major reason for Lexington's success, especially early, in this contest. At 5-foot-10, Reid operates as a legitimate glue-guy for this team—a label seldom placed on players of his size. However, he truly did find ways to make a ton of plays and affect various facets of the game within the flow of the action. On the other side, Liles made a major impact with his three-point shooting. His ability to spot-up and highlight deep shooting range is what allowed the Yellowjackets to mount an early lead. Reid: 8 points, 8 rebounds, 3 assists, and 2 steals. Liles: 17 points and 3 rebounds.