Each year, the high school basketball landscape tends to reset, reshuffle, and ultimately redistribute the "who's who" of NCHSAA and NCISAA. This practice is much more evident within the public-school ranks, as kids can freely opt to transfer to a private or independent program (weakening public schools and bolstering the new destination). Last season, the top public-school program was probably Weddington (with various others making their case). That being said, it'll be a completely different group of teams during the upcoming year. After seeing a healthy majority of the NCHSAA squads, it's pretty clear that Myers Park should be the most talented (and top overall) public-school team in North Carolina. Let's take a closer look at their roster…
Despite being the newest addition to this already talented roster, 6'4 '24 Bishop Boswell might've been the missing piece to this Myers Park puzzle. His transition has been nothing short of seamless, though it should've been somewhat expected given how effortlessly he seems to fit and produce with any collection of teammates. Boswell's smart, tough, athletic, well-rounded identity from the point guard position seems to be exactly what this team needed. His size, vision, and ability to make quality decisions allow him to reliably set the tone on both ends of the floor. We featured Boswell on Wednesday as someone worthy of attention from college coaches, and that sentiment remains after a very high-level weekend with the Mustangs. He has all the required attributes and intangibles to always find success.
Given his returning status as a mismatch forward, 6'6 '24 Sir Mohammed is still going to be vital to the success of this team. Although already quite capable of handling and shooting the ball, he's only gotten more poised and comfortable in those areas. Mohammed possesses great length, mobility, and overall skill for his size. He understands how to identify matchup problems and exploit them. Mohammed is capable of grabbing rebounds, pushing the break, and making decisions with the ball in his hands. He's a useful perimeter shooter, but can mix it up and apply scoring pressure from all levels. Mohammed also has clear upside defensively. He has a lot of tools and should only continue to progress over the foreseeable future.
Similar to the entry above, 6'7 '23 Elijah Strong rejoins the team as a definite leader and focal point. He's a big, sturdy power forward/post prospect with a strong frame and quality skill level for his size/position. Strong can finish, post-up, operate from the elbows, or find opportunities along the perimeter. He displays nice touch and footwork around the basket, but can also pass, attack off the bounce, and hit jumpers from midrange or beyond the arc. Strong rebounds the ball quite well and can push the break if needed, but understands how to locate a guard and properly run the floor in transition. He's already collected four offers, but that list of schools should continue to grow over the coming months.
Although everyone should be aware of his incredibly exciting game by now, 6'7 '25 Sadiq White continues to be a name worth noting. The long, explosive forward possesses an extremely appealing array of physical tools, from size to fluidity to some of the most effortless bounce in high school basketball. White is currently a matchup problem simply by playing hard, running the floor, and capitalizing on second-chance opportunities. He constantly lurks for lobs and putbacks, and shows no fear of any defender around the basket. White's skillset is developing, but he does look more comfortable at handling the ball and hitting perimeter jumpers with each new viewing. He also has a lot of tools defensively. There should be a lot of optimism about his continued growth, as White should be a high-level prospect.
Rounding out their senior grouping, guys like 6'3 '23 Sam Walters and 6'5 '23 Kaamil Domingo are going to be extremely valuable pieces for the Mustangs. In all reality, Walters will likely remain the top perimeter shooter on this roster. He knocked down three-pointers at a 37% clip last season, and has only continued to make strides during the summer. Walters is also a quality passer and team defender. Meanwhile, Domingo will provide meaningful minutes as a long, active interior piece who plays hard on both ends of the floor. He moves well for his size, battles on the glass, works to alter shots defensively, and finishes as needed. Both guys should be difference-makers for this squad.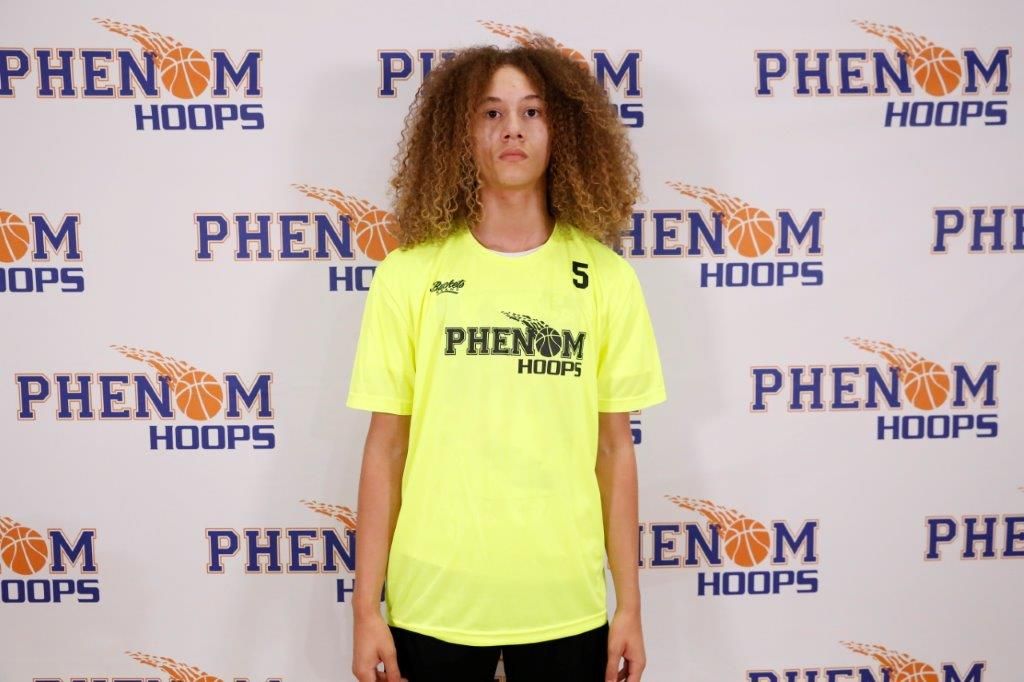 Additionally, 6'3 '24 Santana Lynch showcased definite improvement during the NCHSAA weekend. He hit shots at a respectable clip and operated effectively in his role on either side of the ball. Lynch shows flashes of well-rounded ability, but is also comfortable in a spot-up role. He rebounds well and doesn't necessarily require the ball to make an impact. Lynch also has upside as a defender, and should only continue to progress going forward.