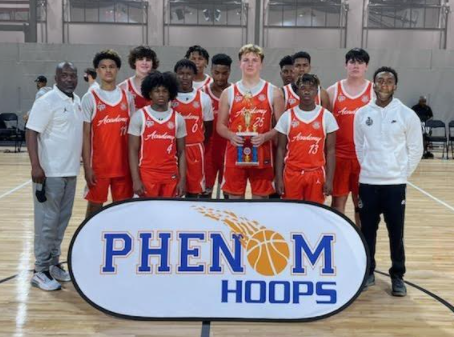 6'1 Jordan James 7th grade is a productive prospect on the court.  When I first saw him this fall and now into the season, he continues to prove that he can be a matchup nightmare and can consistently get it done.  With his activity around the rim, showing his explosiveness to finish strong or facing up and attacking the defense, James is just a headache for defenders. He simply understands how to impact the game and takes advantage of it every time he plays. He plays bigger than listed, using his length and wingspan, is strong on the boards, runs the floor well, and understands spacing.  Defensively, he is able to use his body and overall strength to defend multiple positions well. 
5'6 Amarion Williams 7th Grader from Farmville Middle is a player that arguably stood out as the most enticing long-term prospect on this team. He's a long, wiry combo guard with skill, toughness, and solid offensive versatility. Next in his development process is working on his consistency as a three-point shooter, as the added wrinkle would make him even tougher for opponents to contain. Amarion has excellent ball skills for his size and position. He finished well in traffic at the rim and has the ability to become a terrific offensive rebounder with his length and speed.  His best basketball is in the future; Williams has enjoyed a quality showing all season long averaging 20PPG, and should ultimately become a vital part of any high school team that gets him.  
6'1 Jamarion Dickson 7th Grader from Pattillo Middle was able to affect the game in a variety of different ways while operating within himself on both ends of the floor. Jamarion Dickson is a high-motor guard that scores the ball quite effectively from all three levels while highlighting his ability to constantly make plays in transition. Next in his development process is working to become a craftier ball-handler, as it would make him a more reliable playmaker. 
5'5 Algier Suggs 7th Grader from Epps Middle is a player that offers a strong balance between scoring and playmaking, Suggs is a smart, quick, tough two-way point guard who is excellent at penetrating gaps. He also possesses the willingness to create and make plays for others. Suggs is a lighting quick point guard that has a great pace to his game. He excels at pitching the ball ahead and getting it to teammates in transition. He has a nice two-dribble pull up & his floater is almost automatic. His three-point shot is consistent and he can fill it up in a hurry. He is coachable, possesses a high basketball IQ, and has a strong desire to win. Whichever high school program gets him will get a floor general that knows what it takes to win.