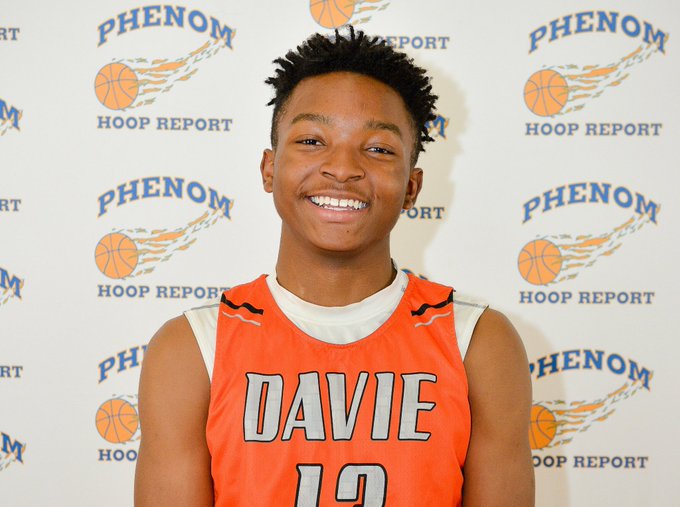 It hasn't been easy for 2022 Zaharee Maddox of Davie County, working hard through his recovery after battling an injury called Osteochondritis dissecans, which involves pain in his knee. But now he is putting his full focus on working on his game and proving his game on the court.
"It was scary at first, felt sort of weird but we built a lot of strength back in my knee," Maddox told Phenom Hoops about his injury. "I still wanted to make sure to keep it strong, so we continued strengthening it before I really was 100 percent. A lot of work went in and will continue so another injury doesn't happen again."
This season though at Davie County, Maddox came in to show what he can do on the court. Averaging 14 points, 5.3 assists, and 4.9 rebounds per game this season, the sophomore guard knew that it was time for him to mature and take his game to another level.
"My mentality this year was that it was time for me to grow up and be a true point guard, to do everything like it was my last because I know basketball can be taken away so far," he replied. "I wanted to lead my team as far as I could, show a little bit of different stuff this year. My goal was to be a true point guard and I think I showed that this year."
Maddox is a guard that likes to get his teammates involved, having a team-first mentality but also showing the ability to get to the lane, create his shots, and showcase his pull-up game. He seems to excel when he is able to get out and run, making stuff happen on the court.
It may be the reason why he received a few early offers from DePaul and High Point, catching the attention early on.
So far, his recruitment has been going well early on, building solid relationships with the staff as they continue to check-in.  "They talk about how much they like what I bring to the table with my quickness and ability to play an all-around game as a point guard."
"I think what stands out with both of them is how early they hopped on me, that is always going to be on my mind during the whole recruiting process. Both programs are trying to build something special that I could possibly be a part of."
Maddox also mentioned schools like Virginia, Saint Louis, UNC-Wilmington, Hampton, NC State, and Elon have all been in talks in the past. He has already visited Elon, NC State, and High Point. Maddox also has hopes of getting up to campus at Virginia.
But right now, during this time, Maddox is focused on what he can prepare for, getting his body in the best form possible and working on his development as a player.