When it comes to a true Grassroots travel ball team and organization, be sure to include the Greensboro Warriors. The Warriors have built a foundation with players in the Greensboro general vicinity. This year, we've had the pleasure of having the Greensboro Warriors 17U team at several of our Phenom events. The Warriors are coached by Lee Moore. While 6'4 2020 Ahmil Flower of Greensboro Grimsley has been a hot name with college coaches, this Warrior team is not a "one trick pony."  In today's issue, we will take a closer look at some of the other key contributors that will garnish college interest come July.
6'3 2020 Brandon Thomas (NW Guilford HS)
Standing a strong and lengthy 6'3, Brandon Thomas is an excellent combo guard that is just now scratching the surface on his potential. In speaking with Coach Lee Moore, he stated the following. "Brandon is very athletic guard who can run the point or play off the ball. He has a high basketball IQ and can play above the rim. He is just returning from a repaired tear in his meniscus and will be ready to go for the July Live Period."  Known for his ability to get "downhill," Thomas is capable to casually knocking down open shots. He has the unique ability to create his own shot off the bounce or be effective in creating opportunities for his teammates. We've been impressed with his "team first" approach to the game. Thomas is a willing passer and his unselfish play makes him a very valuable asset to any team.
6'5 2020 Jordan Williams (Greensboro Smith HS)
6'5 Jordan Williams is another, yet strong bodied wing. Like his teammates on the Greensboro Warriors, Williams is a selfless player who has completely bought into the team first approach. Coach Moore stated, "Jordan is a glue guy who puts you in the mind of Draymond Green. He shoots it well from the behind the arc and can rebound and finish with the best of the. No one on the floor will outwork him as he has been our clutch guy all season." In addition, Williams can score from all three levels and can best be described as a "do it all wing," not to mention he plays with an endless motor on both ends of the court.
6'4 2020 Zach Murphy (Crossroad Academy)
As the old saying goes, "shooters translate" at every level and the slender and lengthy two-guard can simply shoot the cover off the ball. Coach Lee Moore stated it best. "Zach is one of the purest shooters I have coached. He can shoot on the move or spot up. At his heigh, he can get his shot off with the best of defenders. If needed, he has handles where he can run the point guard position. He has a very high skill set and basketball IQ." More importantly, Murphy has outstanding range. He has solid shooting fundamentals and his shot is textbook which is important for efficiency. Look for his stock to explode this summer.
5'11 2020 Khalid Hinds (Ben L. Smith High School)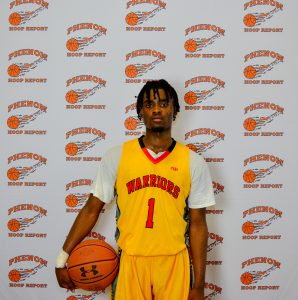 One thing is crystal clear, 5'11 PG Khalid Hinds has speed to burn. He's exceptionally quick with the dribble and can give to one point in a hurry. Coach Moore stated, "Khalid is one of the fastest point guards end to end. At the Bob Gibbons TOC, he was a one man fast break. He can shoot from the behind the arc, get to the rim or run his team. Because of him, we have not been pressed all year." In addition, Hinds is a terrific ball handler with excellent court vision. With his overall quickness and ball speed, he is such a difficult player to contain in the half court, much than than the open court.