Gate City Showcase "Final Thoughts, Takeaways, and Stock Boosters"
The inaugural Gate City Showcase held at Greensboro Day School was a huge success. There were many storylines and some great early season games that helped define what is going to be another exciting basketball season in the Hoop State. Now, let's take a closer look at our final thoughts, takeaways, and stock boosters.
Moravian Prep is a Nationally Top 20 Team
Moravian Prep has Five Star Josh Hall, Four Star Shakeel Moore, both who is committed and signed for NC State. In addition, they have a wealth of D1 talent including Jaharmi Harvey, Luke Davis, Javarzia Belton, Darrius Davis, Amare Haynie, Tyriq Brown, and Terrence Johnson. They have depth, length, athleticism, talent and most of all a strong defensive presence. They are well-coached, play an aggressive brand of basketball, and yes, their defense will carry them throughout the season. 
Josh Hall may just be the best player in the state
For 6'8 wing Josh Hall, he has quietly gone about his business on and off the basketball court. The sometimes, shy and reserved Hall has seen his stock continue to rise and there are not many 6'8 players in the country that has his skill set along with an outstanding touch from the beyond the 3-point line. He has expanded his game and, in our opinion, maybe the most underrated player at the national level. He simply checks all the boxes in our 3 P's approach; production, performance, and potential.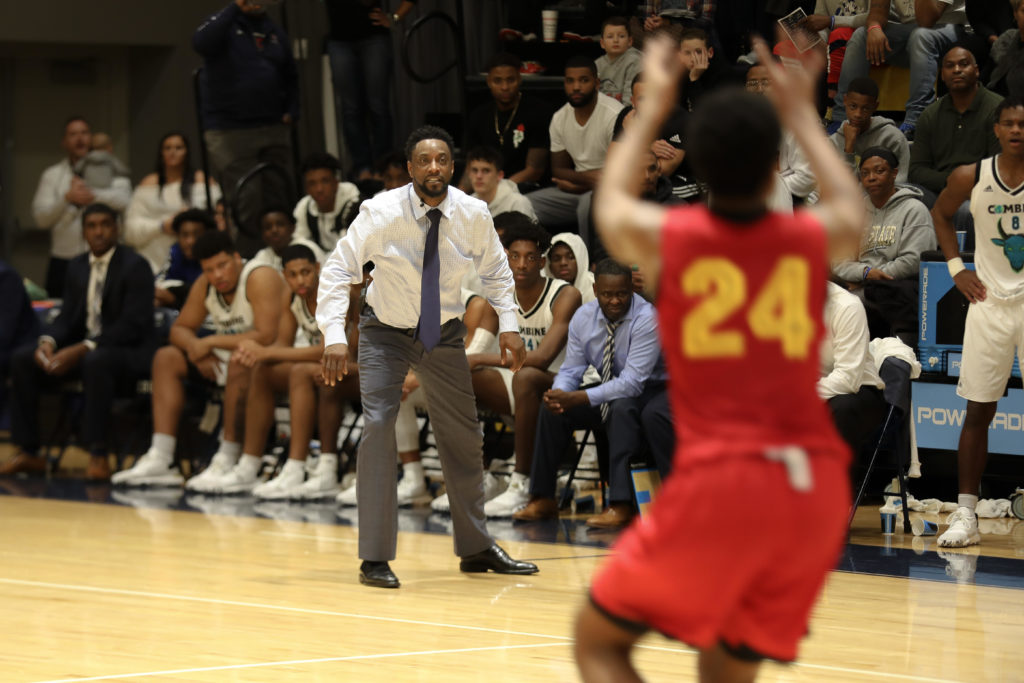 Building for the future
What coach Jeff McInnis has done at Combine Academy in this short amount of time is remarkable, but not surprising. While Combine came up short in the much-anticipated matchup against Moravian Prep, it's no secret coach McInnis is building something special. His youthful team featuring sophomore Jalen Hood-Schifino. The majority of his lineup is underclassmen and as he continues to show the success on the basketball court, he will also attract more players at the national level. 
Dylan Blake is more than just a 3-point shooter
As the old saying goes, "Shooters translate at every level," and for Dylan Blake, he can flat shoot the cover off the ball. He has gained a lofty reputation as being one of the top 3-point shooters in the state and rightfully so, but Blake is a complete all-around basketball player. He is fundamentally sound, has a high basketball IQ, has solid ball-handling skills, excellent court vision, and just understands the game. 
DJ Nix "Stock on the Rise"
Although Cannon School lost two heartbreaking games by a total of two points. In each instance, Cannon had a last-second shot to win. While the outcome of the games was very disappointing to Cannon, 6'6 sophomore wing DJ Nix stock is on the rise. In the Friday night one-point loss to Greensboro Day, Nix finished with 26 points going 10-14 from the floor, 2-3 from the 3-point line, and a perfect 4-4 from the free-throw line. He also collected five rebounds. In the Saturday night one-point loss to Piedmont Classical, Nix recorded a double-double with 24 points, 14 rebounds, not to mention he dished out two assists, had two blocks and steals. He went 7-16 from the floor, 4-5 from the 3-point line, and 6-7 from the free-throw line. 
Piedmont Classical wins marquee game
Piedmont Classical has been in three of our Phenom High School series, Carmel Christian Tip-Off Classic, National HS Showcase and the Gate City Showcase. In each event, the buzz and hype surrounded the opposing teams as they lost to Moravian Prep and Liberty Heights while beating NCHSAA 1A power Henderson Collegiate and NCISAA 4A power Cannon School. Coach Kenneth Free has a very intriguing team. They play hard and have that proverbial chip on their shoulder. Looking for respect, the game against Cannon was the perfect storm. It was a close, hard-fought battle, and which Piedmont Classical rallied in the final minute of the game when "tough as nails" Jamarii Thomas drove and hit the winning basket.  
Welcome to the Big Stage
Wesleyan Christian was a team we really wanted to see. Coach CJ Lee is in his second season and looks for them to be one of the sleeper teams in the NCISAA and to take it a step further, 6'1 junior point guard Aisaiah Phillips made a huge case as a D1 prospect. In the 69-58 win over Glenn High School, Phillips impressed us with his overall play. He almost recorded a triple-double by scoring 18 points, dishing out eight assists and collecting eight rebounds. He went 6-10 from the floor, 2-3 from the 3-point line, and went 4-4 from the free-throw line. Phillips is a high IQ, athletic and poised point guard that maybe our biggest surprise players in the state. We missed out the first go-around in our NC rankings, but he will definitely get a "high entry" into our next scheduled rankings. 
Brock Williams blending in at Greensboro Day
For Brock Williams, he had a reputation as being a scoring point guard and the biggest question many pundits had was "How would Brock Williams fit in at Greensboro Day." First of all, Williams may just be their best "on ball" defender and provides toughness and the ability to get to the rim when he wants. In the game against Covenant School, Williams was simply superb in this play. He was efficient and productive as he tallied 12 points going 5-7 from the floor, 2-2 from the free-throw line, dished out one assist and had three steals. When Brock Williams made the decision to attend Greensboro Day and legendary coach Freddy Johnson, Williams knew going in he would sacrifice scoring, but would come out a better all-around player which is what it is all about.