Rivalry. Both schools less than 10 miles apart. Packed crowd. Standing room only. Playing for your community. These are the type of environments that athletes dream about.
The last time these two teams met, there was an overtime thriller in which Chambers came out on top. Did anyone expect this game to be any different? North Meck entered the matchup with an 18-3 record (8-1 in conference), while Chambers had a record of 15-5 overall (8-0 in conference).
Led by senior Daniel Sanford (USC commit), Chambers came out hot, jumping out to a 10-4 lead midway through the first quarter. Sanford scored 10 of Chambers' first 12 points, knocking down five midrange pull-up jumpers. However, North Meck would respond. Davion Cunningham and Jordan Crawford (College of Charleston commit) led the charge, and North Meck went on an 11-0 run to take a 15-12 lead. But just before the end of the quarter, Chambers' Jaylen Curry drills a pull-up three on the buzzer to tie the game back up at 15-15.
North Meck took control early in the second quarter, jumping out to a 33-20 lead with 2:11 remaining in the half. Jordan Crawford was showcasing his full scoring arsenal with step-back threes, midrange pull-ups, floaters, and getting to the basket. Davion Cunningham turned defense to offense. His defensive pressure set the tone for North Meck.
However, Chambers wouldn't quit. Chambers finished the half with a 10-2 run of their own. North Meck led 35-30 at the half.
The third quarter, we saw much of the same. Neither team could quite take control. North Meck led 50-43 heading into the fourth quarter.
As the fourth quarter began, everyone knew this was going to come down to the wire. Chambers was ready to make their run. With 5:00 remaining, Chambers' Antoine Piper knocks down the catch and shoot three, then on the following defensive possession, Amari Richardson forces a steal and finds Daniel Sanford for the dunk. Chambers had now cut the deficit to 53-51.
North Meck responds and is now up 57-53. But once again, Chambers fights their way back to tie the game up. Jaylen Curry grabs the rebound and finds Antoine Piper in transition for the dunk, then on the next play, Piper steals the ball and returns the favor, finding Curry for the layup to tie the game up at 57-57 with 3:00 remaining.
But just like that, North Meck's Jordan Crawford drills a pull-up three on the following possession. North Meck regains the lead, 60-57 with 2:45 remaining.
Chambers again is able to tie the game up at 63-63 with 1:37 remaining as sophomore Maurio Hanson knocked down two free throws. But just as soon as Chambers is able to tie the game, North Meck answered once again. Jordan Crawford found sophomore Isaiah Evans for the corner three to retake the lead at 66-63 with 1:25 remaining.
Daniel Sanford continued to have a game-of-the-year type performance. He hit big shot after big shot all night long. Again he drills a pull-up jumper at the foul line with 1:05 remaining to cut the deficit to 66-65.
North Meck converted with two free throws on the other end and now held a 68-65 lead. Chambers has the ball with a chance to tie the game. Out of the timeout, Chambers runs a set to find junior Nick Dorn for three. Onions! Dorn buries the three to tie the game at 68-68.
For the second time this year, this rivalry was headed to overtime.
In overtime, Chambers took their first lead of the game since the first quarter on an isolation drive from Daniel Sanford who converted at the rim. Chambers now led 70-69 with 2:39 remaining in overtime.
North Meck's Jordan Crawford answers on the other end with a tough finish. North Meck regained the lead at 71-70. On the next play, it looked like Crawford would be able to score again in the open court. However, Antoine Piper hustles and back-taps the ball to regain possession for Chambers. Neither team was going to quit.
Once again, the USC commit, Daniel Sanford, answers with yet another pull-up jumper to take the lead at 72-71 with 1:05 remaining. Chambers locks in and gets the stop on the defensive end. Daniel Sanford is then fouled and sent to the line with 0:20 remaining. He hits both. Chambers is up 74-71 with 0:19.
In this situation, you can either go for a three to tie the game, or get a quick basket. Jordan Crawford did just that. He weaves through traffic for the layup. 74-73 Chambers with 0:10 remaining.
Kendall Smith goes one for two at the foul line. Chambers is now up 75-73 with 0:08 remaining. North Meck has the chance to tie or win the game. But in typical Chambers fashion, they got the stop they needed on the defensive end and won the game.
Chambers improved to 16-5 overall with a 9-0 conference record. North Meck is now 18-4 overall with a 8-2 conference record. This was without a doubt the game of the year. Two of the best teams in the state battling it out in a rivalry matchup. And the even crazier thing about it is that these two teams could face off two more times this season: in the conference championship and again in the state playoffs.
Chambers 75
Daniel Sanford – 31 points, 7 rebounds, 2 assists, 1 steal
Maurio Hanson – 13 points, 4 rebounds, 1 block
Jaylen Curry – 11 points, 3 rebounds, 5 assists, 1 block, 2 steals
Nick Dorn – 10 points, 4 rebounds, 2 assists
Antoine Piper – 6 points, 6 rebounds, 4 assists, 3 steals
Kendall Smith – 4 points, 3 rebounds, 1 assist, 1 steal
North Mecklenburg 73
Jordan Crawford – 31 points, 2 rebounds, 3 assists, 1 steal
Davion Cunningham – 23 points, 6 rebounds, 3 assists, 1 steal
Isaiah Evans – 15 points, 6 rebounds, 1 assist, 5 blocks, 2 steals
Tyree Bracey – 4 points, 10 rebounds, 2 blocks, 2 steals
Standouts:
Player of the Game: 6'8 2022 Daniel Sanford (Chambers) (University of South Carolina)
This game was personal for Daniel Sanford. During his career at Chambers, North Meck has always had the upper hand. Sanford came into this season 0-6 versus North Meck. Sanford wanted to change that this year. Chambers has one the first two meetings this season against North Meck, and both games Sanford has been incredible. Sanford finished with a game-high 31 points, 7 rebounds, 2 assists, and 1 steal. He was terrific from start to finish. He has always been versatile defensive and able to attack the basket on the offensive end. But what really stood out is his development with the ball in his hands and ability to knock down the midrange jumper. He hit seven midrange pull-ups this game. And every single time his team needed a basket, he answered. This is exactly the type of play you need from your senior leader.
6'1 2022 Davion Cunningham (North Mecklenburg)
Simply put, Davion Cunningham is deserving of more Division I offers. He is one of the toughest competitors you will find. Coaches always say they want tough guards who can really defend. Davion Cunningham is that guy. He set the tone from the opening tip with his ball pressure on the defensive end. He made it difficult all night for the Chambers guards to get in a rhythm in the half court. He is active on the ball and anticipates well in the passing lanes. He turns defense into offense. He has always been a guy who excels getting to the basket off the bounce. But Cunningham has continued to showcase his ability to consistently knock down jumpers, especially in the midrange where he converted on four pull-up jumpers. He also showed his ability to knock down the catch and shoot three. Cunningham is a winner. He gives max effort, makes all the hustle plays that lead to winning. Teams are better when they have a player like Davion Cunningham.
6'2 2022 Jordan Crawford (North Mecklenburg) (College of Charleston)
Jordan Crawford continues to have an incredible senior year. He is putting on a scoring clinic every single time he steps on the floor. He is super explosive and combine that with the ability to knock down shots in a variety of ways from all over the court, he is scary. Crawford knocked down tough shots all night long from step-back and pull-up threes, midrange jumpers, floaters, and acrobatic finishes at the rim. Crawford is going to have a great career for Coach Pat Kelsey at College of Charleston.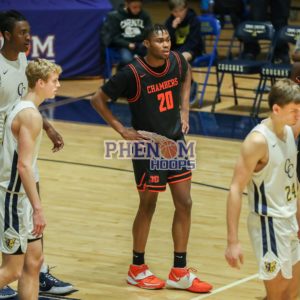 6'7 2024 Maurio Hanson (Chambers)
The sophomore forward continues to have an incredible season. He continues to showcase his skillset and ability to impact the game on both ends of the floor. In the post, he has great hands, footwork, and understanding of positioning and scoring angles. He has a nice left-handed jump hook over his right shoulder. In addition, he does a really good job of working to create scoring angles. There were multiple times where he was able to seal his defender up the lane and create scoring angles for drop-step finishes, especially in high-low situations. Hanson has a bright future and already holds an offer from NC A&T.
6'4 2022 Antoine Piper (Chambers)
Antoine Piper often times doesn't get the credit or accolades that some of his other teammates might receive. However, he is extremely important to the success of this team. He is without a doubt one of the best defenders in the state. He is tough, strong, athletic, and has the ability to guard multiple positions. He can guard the ball and force tough shots from opposing guards. If he gets switched onto a post player, he utilizes his strength to force them off the block. Although he only scored 6 points, he also added 6 rebounds, 4 assists and 3 steals. He came up with timely steals that led to baskets as Chambers made their fourth-quarter run. In addition, he found open teammates and made the right unselfish play. Piper holds offers from Sandhills and Catawba Valley.
6'6 2024 Isaiah Evans (North Mecklenburg)
Isaiah Evans has the potential to be a Top 50 player nationally in the 2024 class. He has all the physical intangibles to go along with a high-level skillset. He can score the ball efficiently from all over the court. His first basket was a turnaround baseline jumper in the post. He can put the ball on the bounce and make plays from the perimeter. He attacks the basket fearlessly despite his frame. And even more importantly, he's not afraid of the moment. He knocked down a corner catch and shoot three to take the lead with 1:25 remaining in the fourth. As he continues to add weight to his frame, he is only going to get that much better and his recruitment will skyrocket even more. In addition, what I loved about Isaiah's game is how he impacted the game on the defensive side of the ball. He rebounded it and had a game-high 5 blocks. He finished with 15 points, 6 rebounds, 1 assist, 5 blocks and 2 steals. Evans currently holds offers from Tennessee, Texas A&M, and Hampton.