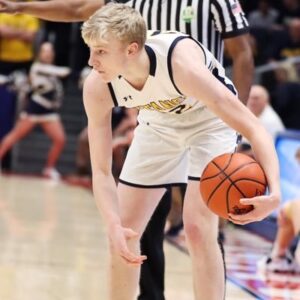 2024 Colin White, a guard from Ottawa Glandorf, recently took a visit to Blacksburg to check out the Hokies, and Phenom Hoops was able to catch up with the 2024 prospect to learn more about the visit.
"The experience at Virginia Tech was great, we got to see the whole campus and their game day prep. The relationship with the staff is great, and everyone there is awesome!"
White also mentioned that the Hokies have been very strong with him, as they are reaching out and talking to him on multiple occasions.
Right now, White holds offers from Cincinnati, West Virginia, Toledo, Illinois State, Akron, Miami (OH), Ohio, Northern Iowa, and Oakland.  White also mentioned that he has been having schools like Illinois, Penn State, Virginia Tech, Ohio State, Purdue, Virginia, and Xavier all express interest his way.
White has been able to really get a chance to see multiple programs as well, including his latest to Virginia Tech.  He also has made visits to Ohio State, Indiana, West Virginia, Cincinnati, Toledo, Dayton, and others.  And he is trying to get some dates to go to Ohio State again, as well as Illinois and Penn State.