Defensive Difference Makers
There's an old saying, "Offense sells the tickets, defense wins the game." No matter the level, defense is the name of the game. When speaking to college coaches, one of the biggest questions we get as basketball scouts concerning a prospect is, " Who can they defend?" In addition, we often hear players will play at the level they can defend. That being said, let's take a look at my "Defensive Difference Makers." This list is from players I've personally watched in multiple viewings. 
6'0 '20 Shakeel Moore (Moravian Prep)
The NC State signee should make an immediate impact as a freshman for Coach Kevin Keatts. Known for his strong, muscular frame and explosive leaping ability, Moore is a highlight waiting to happen with his ability to throw down jaw dropping and thunderous dunks. He has worked on his all-around offensive game, but in my opinion, Moore is in the conversation as one of the better on ball defenders. Moore has excellent defensive technique/stance where he sits low and makes himself better by playing with his arms/hands wide. He has excellent lateral quickness, active hands, and great anticipation in the passing lanes.
6'7 '21 Omarion Bodrick (Independence HS, Charlotte, NC)
There are very few players that I have watched this season that can impact a game without scoring a single point. Bodrick sports a slender, lengthy and athletic frame. He has impeccable timing on securing rebounds, but his ability to alter and block shots is one of the best in the state. That being said, Bodrick is a good defender in the post and has the ability to step around his opponent for steals or deflections. In addition, he averaged nine points and eight rebounds a game.
5'10 '21 Camian Shell (Parkland HS, Winston-Salem, NC)
We saw Shell numerous times last spring/summer and had a banner year. Shell led Parkland to an impressive 22-5 record in the super competitive NCHSAA Piedmont 3A Triad Conference. Not only did Shell average 21.4 PPG, but also averaged 5.1 RPG, 5.1 APG, and a state leading 5.4 steals per game. This past summer at the Phenom Finale, Shell led Team Winston to the 16U Championship. In our scouting report, we stated, "Shell is very quick, but plays calm and under control. He's stronger than you think, he's faster than you think, and he finishes better than you think. "He is an excellent young floor general, not to mention he sets the tone on the defensive side of the ball.
6'0 '21 Brock Williams (Greensboro Day School)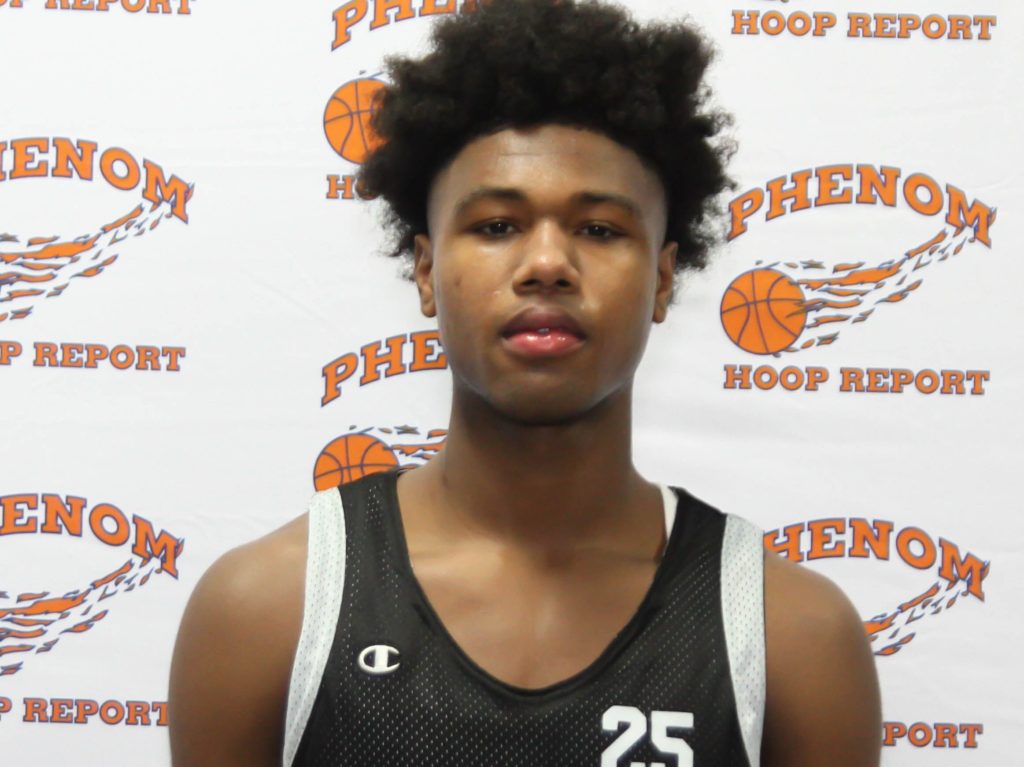 Give Brock Williams tremendous credit. He traded averaging 30 PPG at Burlington Christian and transferred to NCISAA 4A power Greensboro Day coached by Freddy Johnson. The move would help prepare him for the collegiate level. Here, he would learn the nuances of team defensive principles such as weak side defense. That being said, Williams made the biggest mark with his intense "in your face" on ball pressure. Williams has excellent defensive posture and has the unique ability to apply pressure defense the entire length of the court.
6'0 '20 Lawrence Frost (Combine Academy)
Lawrence Frost was one of the lone seniors on the talented Combine Academy. To earn minutes for coach Jeff McInnis, you have to play hard, intense and get after it on the defensive end of the court. While Frost didn't score a lot of points, his importance on the defensive side of the ball cannot be understated. Frost has excellent lateral quickness, active hands and great anticipation. Whether it was double teaming, trapping in the half court, or applying strong defensive pressure, Frost made his mark and set the tone.
7'0 '21 Quincy Ballard (Quality Education, Winston-Salem, NC)
No matter the level, high school, college or the NBA, everyone cherishes a rim protector and shot blocker. Playing at the Phenom Hoop State Championship, Quincy Ballard quickly grabbed our attention on both ends of the court, but made the biggest impression by being the defensive anchor in the paint. We're talking about a physically strong, and lengthy 7'0-footer who has good rebounding instincts. In addition, Ballard does an exceptional job of playing with his arms and hands fully extended making it doubly difficult for opposing offensive players.