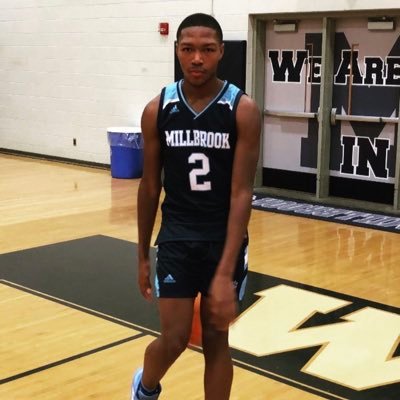 Each and every time Phenom Hoop Report gets to report or sees a commitment from a player we have seen over the years, it is always a fantastic day. It is great to see players achieve their goal to play at the next level and it is such a great accomplishment for that player.
Here is the latest commitment.
Player: Jalen McCoy
Class: 2020
Committed to: USC-Aiken
What the Player Said:
PHR: What kind of relationship did you have with the staff there?
McCoy: I have a great relationship with the program. I've been talking to the program since the summer and I would always have conversations with someone from the staff at least two days a week. They always checked on me to see how I was doing. They came to some practices and games, also a former Millbrook student Faison Brock went here, so they have a good relationship with the Millbrook coaching staff, which helped build our relationship more because I could talk to Coach Davis about everything.
PHR: What were some of the final pieces that made you think that this was the place for you?
McCoy: I would definitely say the coaching staff definitely made it feel like home.  It also isn't far from my mom and I believe I fit in well with their playstyle after watching some of their games.
PHR: What are they hoping you can bring early on to the program?
McCoy: Definitely defense, they love the way I get after it defensively and also attacking the basket, getting rebounds, and playing hard.
Stats Last Season:
This season for Millbrook, who finished with a 23-4 overall record, McCoy played in 25 games and averaged 12.3 points per game, shooting 60 percent from the floor. He also finished the year averaging 4.8 rebounds and recorded 41 assists.
What Was Said by Phenom Hoops:
"He's long, smart, athletic, and possesses great defensive versatility, which allows him to actively toggle between multiple positions. McCoy rebounds, handles the ball, creates for himself or others, and understands how to properly utilize his strengths while minimizing his weaknesses. He's terrific in transition, both with and without the ball, and displays touch and toughness when attacking the basket." – Jeff Bendel
"6'4 senior Jalen McCoy may just be the team's "glue guy." He just does a lot of things well and was especially good in the last two games of the John Wall Holiday Invitational. Against Montverde he had 10 points going 5-11 from the floor and collected six rebounds. In the exciting and entertaining game against Farmville Central, McCoy showcased his worth and value on both ends of the court. He finished with 21 points, 12 rebounds, dished out four assists and even had four steals. It was one of the more complete games at the John Wall Holiday Invitational in my opinion." – Rick Lewis from John Wall in 2019
"McCoy was absolutely unstoppable and incredibly efficient in the win, going 15-for-20 from the floor and only shooting one 3-pointer on his way to a 30-point performance. A 6'4 guard, he has incredibly wingspan that allows him to play bully ball and rise up over defenders. That is what he did all day long and Hillside couldn't stop it." – Patrick O'Brien from Garner Showcase in 2020