Coach Rick's From the Sidelines "CP3 Elite Guard Camp"  
Phenom Hoops travelled to Winston-Salem, North Carolina Friday to cover the 9th Annual CP3 Elite Guard Camp. The camp features some of the top college and high school guards in the country. The camp is orchestrated by Mr. Point Guard himself, Chris Paul, where drills, teaching, instruction is accompanied by actual game situation play.
This year, players from the Carolinas once again graced the rosters with numerous players from the ACC. Ky Bowman (Boston College), Shelton Mitchell (Clemson), Marquise Reed (Clemson), Justin Robinson (Virginia Tech), Nickeil Alexander-Walker (Virginia Tech) and Ty Jerome (Virginia) all were in attendance, not to mention former Duke and NBA players Harry Giles and Grayson Allen. In addition, Ronshad Allen-Shabazz (Appalachian State) and Chris Clemons (Campbell) also were selected although Clemons was out with an injury.
College Standout of the Day 
6'1 Jr. Lamar Peters (Mississippi State)
Lamar Peters was dialed in from start to finish. The strong and athletic southpaw has outstanding range and a picturesque jump shot. Peters is so effective in creating his own shot off the dribble and has a wicked crossover. There may not be a more creative PG with the ball in his hands.  Peters has a nifty hesitation move and changes speeds as well as anyone in the country. He has lighting quick hands and his ball speed off the dribble is tremendous. Peters may just be one of the more difficult players to defend off the dribble/bounce.
High School Standout of the Day
6'3 2019 Cole Anthony (Oak Hill Academy)
Cole Anthony has the size, strength, athleticism and matching skills set that is unequal in the 2019-point guard class. Anthony will be playing for Oak Hill Academy and legendary coach Steve Smith. With the entire Oak Hill coaching staff in attendance, he did not disappoint and could easily become one of the best point guards to play at Oak Hill in the past dozen years. Yes, he is that good and he has the frame that will translate extremely well to the collegiate level and beyond. He can score from all three levels and has the ability to finish with contact in the lane.
Best Defenders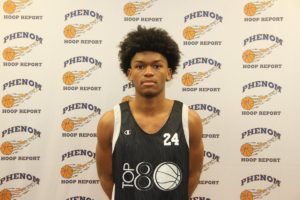 6'1 2019 Keyshaun and Kobe Langley
The Langley twins may have flown under the national radar early in the summer, but their performance at the EYBL Peach Jam proved their net worth with schools like Wichita State of the AAC dishing out offers.  No matter the setting, high school, travel ball or camp settings, the Langley twins take tremendous pride in their defense. They have outstanding foot quickness, active hands and will harass the opposing ball handler the entire length of the floor. They simply create havoc for opposing teams. Offensively, they simply know how to play within the team structure, but more importantly they know how to win. They have won where ever they have played and we expect the same for many years to come.
Top Up & Comer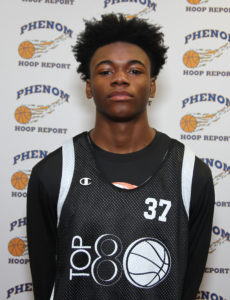 6'2 2021 Camren Hayes (Greensboro Day)
Camren Hayes was pretty darn impressive in the 2020 class, but the lengthy and athletic point guard has transferred to Greensboro Day and Freddy Johnson and reclassed to the 2021 class. This should quickly elevate Hayes into a national level prospect and will become a high priority for Power Five schools. Hayes has a unique blend of athleticism, length and skill, not to mention tremendous poise and maturity. Hayes has the ability to be an effective two-way player and will be an important member of another talented Freddy Johnson team and has the ability to become a stellar defensive player, not to mention one of the top playmakers in the country. His stock is going to quickly rise!
Breakout College Players
6'5 Jr. Ty Jerome (Virginia)
We have watched the growth and maturity of Ty Jerome for many years. He was outstanding at the NBA Top 100 three years ago and has been a tremendous "glue guy" for Virginia's Tony Bennett for the past two years. Jerome looked confidence in shooting the 3-pointer from long range. He was quite effective off the bounce/dribble and the catch and his size allowed him to shoot over smaller and athletic guards on a consistent basis. More importantly, we were so impressed with his vocal leadership on the court. Whether he is on offense or defense, Jerome is constantly talking and communicating with his teammates. Look for Jerome to have a breakout ACC season coming up. He was one of the biggest competitors of the day and understands team defensive principles as well as anyone.
Mr. Versatility
'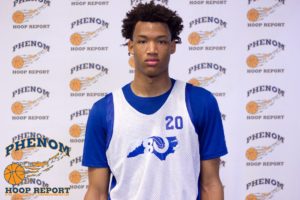 6'5 2019 Wendell Moore (Cox Mill HS)
What's not to like about Wendell Moore! We're talking about high level player that simply knows how to play the game. As a matter of fact, the game just comes so easy to him and his effortless approach simply illustrates his sheer overall talent. Moore can play and guard multiple positions and his high basketball IQ and overall knowledge of the game is as good as any player we have covered in the 2019 class. We have watched and covered Moore since he first played his first high school game. He's been an impact player, but also has the ability to make others better simply by playing within the framework of the game. Very few players with his overall skill set are as unselfish as Moore, which is a testament why so many of his peers enjoy playing with him. In addition, he has the unique ability to reading the game. He allows his teammates to make plays, but when it's time to take over a game, he can do just that.
Tough as Nails
6'3 2019 Jahmius Ramsey (IMG)
Simply put, Jahmius Ramsey is one "tough as nails" players. We're talking about a physically mature player that has tremendous strength, athleticism and explosiveness. As a matter of fact, Ramsey has the ability to play both guard positions, but is best suited at the off guard where he has the ability to score from various spots on the court. That being said, Ramsey is an absolute warrior and has a "take no prisoner" attitude when attacking the rim. Graced with sheer strength and excellent body control, Ramsey can score effectively and efficiently when he is in attack mode. In addition, we really like his competitive spirit and relentless approach to the game.