Coach Rick "North Carolina 2020 Dream Team"
First Team
The North Carolina 2020 class has a unique blend of high-level talent and tremendous depth. Looking at the top of the list, there are several players that are easily in the high major category and definite candidates for the McDonald All American team and the possibility of playing at the next level. We will take a closer look at the players that could be game changes at the collegiate level.  This is an extremely talented class with the top five prospects will be playing for high major programs. In addition, all the below players are high character prospects that excel in the classroom as on the basketball court.
6'11 Isaiah Todd (Trinity/ Raleigh)
Without question, 6'11 Isaiah Todd may be one of the more unique prospects nationally in the 2020 class. Todd is blessed with height, tremendous length and an unbelievable skill set for a player his size. More importantly, Todd's calling card is his mobility and overall versatility. He simply does things that players his size just can't do. Todd has advanced ball handling and passing skills for this size/grade, not to mention excellent shooting mechanics and 3-point shooting range. Todd has all the tools to be a future NBA star. His game reminds me of a young Kevin Durant.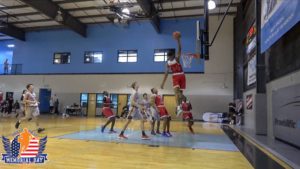 6'5 Jaden Springer (Rocky River HS)
First of all, Jaden Springer is young for his grade. Entering his junior season, Springer is still only 15 years old and won't have his 16th birthday until the end of September. We have spoken glowingly over the years about Springer. We first watched him our NC Junior Phenom Camp as a seventh grader. He was head and shoulders above the competition and only continues to get better with each passing year. We have stated repeatedly, "Springer has the best midrange jump shot" we have seen at the high school or even collegiate level. Strong statement without a doubt, but one we will stand by. In addition, Springer is under-rated as a passer and more importantly being a great teammate. He's a high-profile player that doesn't demand or dominant the ball. https://www.phenomhoopreport.com/2018/03/12/nc-top-80-five-standout-sophomores/
6'11 Day'Ron Sharpe (South Central)
The UNC commit sports a strong and sturdy frame, not to mention extremely lengthy arms. That being said, Sharpe is only beginning to scratch the surface on his long-term potential. At the NBA Top 100 camp, we were so impressed with his energetic and enthusiast attitude on the court and isn't bashful for diving on the floor for a loose ball. In addition, we really liked the poise and overall maturity of Sharpe and what's not to like about a true big that has excellent hands and nifty footwork in the post. Sharpe demonstrated advanced passing skills out of the post area and rarely forces the issue. He's both patient and a willing passer and will work on re-establishing low post position. With UNC's history of developing bigs, Sharpe's size, skillset and athleticism will enable him to be a future NBA long term player. Yes, he is that good!
https://www.phenomhoopreport.com/2018/06/14/dayton-sharpe-oozing-with-upside/
6'9 Justice Ajogbor (Christ School)
Justice sat out the spring with injuries and thus flew under the radar nationally. First of all, Ajogbor has a chiseled and muscular frame. While his physical attributes currently exceed his current skillset, which is often the case with bigs. Ajogbor is an extremely hard-working player and one who works in practice or workouts. He plays with a full throttle approach and is giving maximum effort on both ends of the court. We have always been impressed with his relentless motor and tireless work ethic. In addition, Ajogbor is an excellent student and sports an amazing 4.5 GPA and according to sources, may be the ranked the number one student at Christ School. That alone is quite impressive!
5'11 Jalen Cone (Walkertown High School)
Warning! Don't let his size fool you. The bouncy and athletic scoring guard is one of the hardest working players we have covered over the years. Cone is one of the more exciting players to watch and can score from all levels on the court. He's an efficient 3-point shooter, great off the midrange bounce, and has the athleticism to throw down a nasty dunk in traffic. The high scoring guard is on pace to become one of the all-time leading scorers in North Carolina High School history. In addition, he has an infectious smile that coincides with excellent body language. He's a joy to be around and is constantly working on his game.