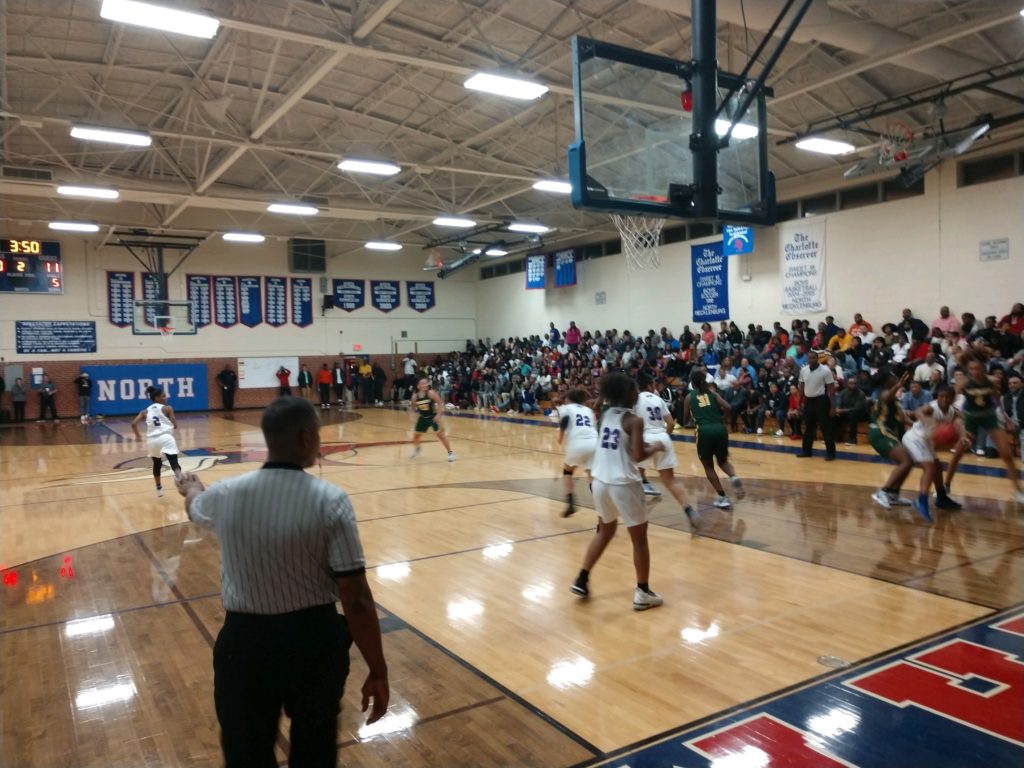 | | | | | | |
| --- | --- | --- | --- | --- | --- |
| | 1st Quarter | 2nd Quarter | 3rd Quarter | 4th Quarter | Final |
| North Meck | 10 | 5 | 13 | 13 | 41 |
| Independence | 8 | 5 | 11 | 18 | 42 |
Phenom Hoops heading to North Meck to get there early for a set of highly-anticipated matchups between Independence and North Mecklenburg on Tuesday. We started out with a treat on the women's side between these two programs, as this was a grind-it-out type game with a side of a buzzer-beater to win the game.
North Meck held the lead after each quarter but they were unable to seal the deal at the free throw line, which gave Independence junior guard Braylyn Milton one last chance to do this…
Standouts:
Independence
2021 G Braylyn Milton:
This young guard has multiple offers and one can see why immediately. She plays with tremendous pace and change of direction, as she gets defenders guessing on the floor. Milton plays with a smooth, shifty feel but also displaying a high IQ. She can play multiple positions on the floor and can score in an array of ways, especially finishing strong around the paint when attacking. He ability to use ball fakes, pump fakes, and hesitation moves really helped her open up the court for her to attack.
2020 G Trinity Thompson:
Thompson has a solid, confident pull-up as she knocked a few perimeter shots from three and with the mid-range game. She handles the ball well and initiates the offense well. Liked her feel in the half-court offense.
2020 F Ayanna Anderson:
She didn't get much into the scoring act but absolutely loved her feisty play and energy that she brought. Anderson was scrappy on both ends, creating extra opportunities with her play.
North Mecklenburg
2021 G Jessica Timmons:
It was our first chance of seeing what Timmons provides and one thing we could see immediately is that she is an absolute shooter. Showcasing her range and ability to create was impressive and this is a young lady that should have the attention of many around the state of North Carolina.
2020 G Nye'mah Smith:
Smith caught our eyes with his speed and quick feet on defense, as she was active on both ends of the floor. She defended well but also played with her head up, read the floor, and was solid in transition. Smith played tough all night long.