Every summer it happens, players on non-circuit teams, pop out of nowhere and become major recruiting targets for regional schools at every level. This year is very much the same, and even looking at it deeper, we are fortunate to live in North Carolina. Such a talent-rich state with dozens upon dozens of Division 1 talent walking around.
Even with seven circuit teams, there are still ample players all around the Hoop State that D1s will be clamoring around to watch this summer.
This weekend is the start of the travel ball season. These players and programs are beginning their resumes and doing so at Phenom's Opening in Greensboro, NC.
The exposure they find during their pre-season games will have to carry them to the Live Period. As we all know, College Coaches will only have 3 days during the April Live Period to recruit players. If they do not know you going in, the most likely will know to watch you during.
Here are some players playing in Phenom's Opening this weekend in Greensboro, who will look to have HUGE travel ball seasons, and should culminate in numerous offers.
6'8" Unsigned Senior Devin Collins
Renegades (WV)
Collins has come on strong in this last year, not only growing 4 inches but also in his confidence. Now standing as a 6'8" forward with ball skills and a knock down the 3-point jump shot, he is a sure-fire Division 1 player. Great length and toughness, Collins is coming off an MVP performance in the West Virginia state championship game. This should be a fun couple of months for him with D1 coaches watching closely.
6'1" 2020 Jajuan Carr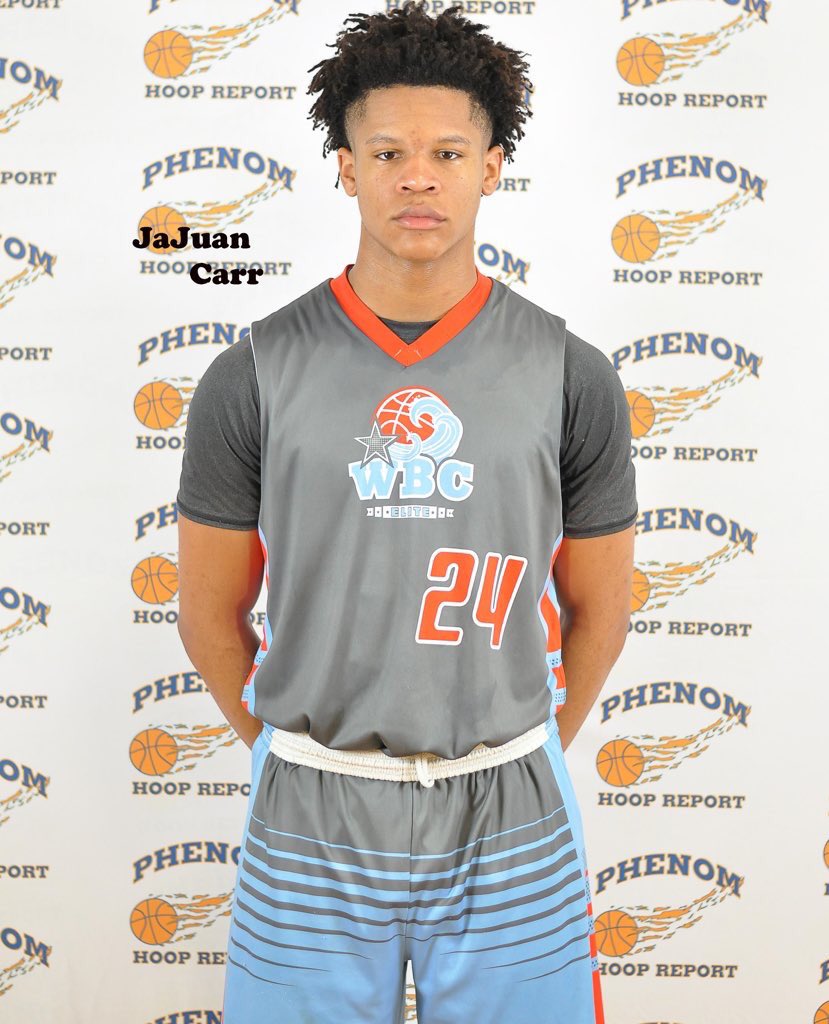 WBC Elite (NC)
It is only a matter of time before Carr is seen on the biggest stage. Already with an East Carolina offer and with NCAA tournament teams Houston and Iowa State recruiting him hard. However, it seems as if the state doesn't recognize him, well that is coming. He was his area, District and Region player of the year this year. The strong-bodied point guard can do anything on the floor when it comes to pass, shoot or handle. He has blow by speed with great pace, who touches the paint often and makes great decisions when there. He is an above the rim athlete and a smooth 3-point shooter. Mid to high-level coaches need to be following him all summer, things could get interesting.
5'11" 2020 Arrington Jones
PSB Elite Winston (NC)
Jones really opened eyes at this year's NC Top 80. He earned an invite from Rick Lewis and, per usual, Rick's keen eye for talent did not disappoint. Jones plays with great confidence and is very vocal on the floor. He shoots the ball well and is jet-fast on the floor. Good passer, good court awareness and he can defend the ball. A lot to like here for scholarship coaches to come and see, and love.
6'4" 2020 Ahmil Flowers
Greensboro Warriors (NC)
Flowers had a big year this season, putting up huge numbers while being the focal point of every team's defense he went against. Flowers averaged 16 points on 55% shooting from the field, through his 26 games this season. He is someone who will certainly catch the eye of Division 1 programs this summer and he will also catch the eye of many onlookers as he will be sure to post some massive numbers. Strong, athletic, great positional size and knows how to get buckets … that is a great combo!
6'5" unsigned senior Zack Austin
Team Winston (NC)
Austin has been a mainstay for North Carolina power Winston-Salem Prep for a couple of years now. The long, athletic and active forward has the potential to be a terror defensively, at the next level. To go with his length, he is quick twitch an aggressive. Offensively, he is a high percentage, a productive player. Austin carried and Appalachian State offer, from the old staff. Schools around that level should still be looking hard at him as he gets ready for his prep year. Austin produces at a high clip and is a winning player defensively, a great package of tools to really fall in love with.