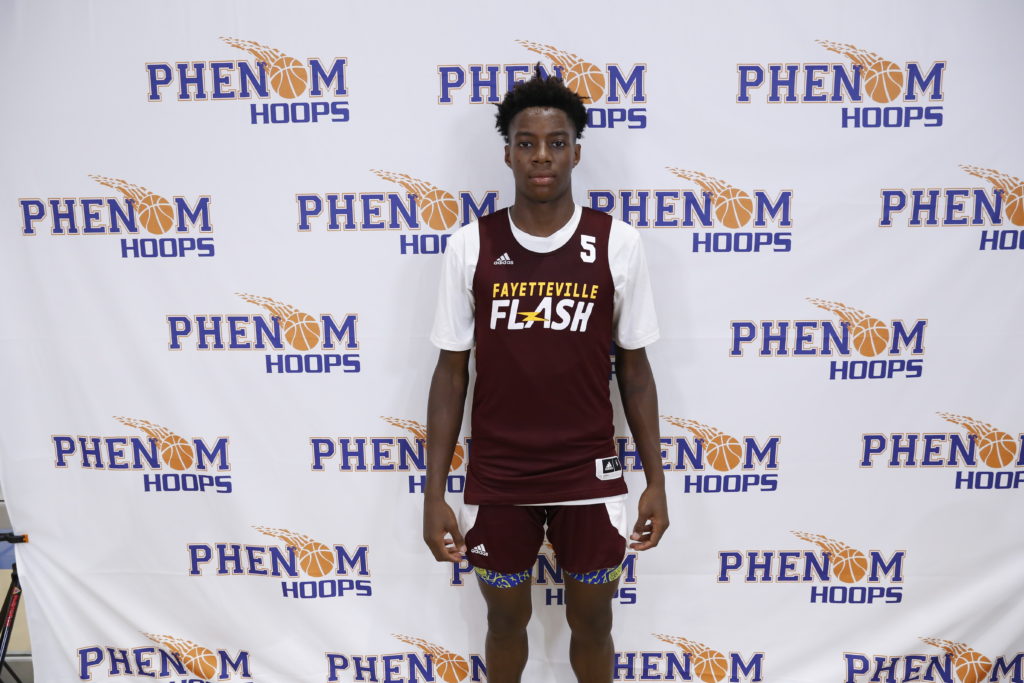 What's up all my hoops heads, it's your guy Brandon Blakney and I'm live from Rock Hill, SC, for some travel ball action! The Phenom Challenge kicked off this weekend and the talent hasn't disappointed! This group of standouts is a diverse group of five that college coaches at multiple levels will want to take a look at!
6'2 2023 Treymane Parker (Fayetteville Flash)- When you mention the top point guards in NC's 2023 cycle, Parker is without a doubt in the conversation. Parker has been known for the electrifying athleticism, we know the kid can jump out the gym, but what I saw today from Parker running the show, it was refreshing. The court vision and passing ability are advanced at this stage, Parker is making reads and passes many of his peers just aren't. Parker excelled in pick N roll sets, he took whatever the defense gave. Parker commands so much attention on the drive, it's natural for him to suck the defense in, instead of settling for tough shots he continually got teammates involved. Parker shot the basketball at a high clip, the three-ball was falling and Parker looks more comfortable shooting it. As good as Parker is now the sky's the limit over the next several years, he could be a name on the national radar sooner than later.
6'0 2023 Evan Morton (Team Synergy) Morton got everything he wanted in the lane on Sunday, defenders truly struggled to stay in front of him. Morton isn't blazingly fast but he's got a quick first step, Morton possesses good body control, keeps guys on his hip and he's also able to absorb contact. Morton only needs one move to beat his guy and he's carving up the lane en route to the cup, Morton was a big reason Synergy came away with a big W, In the final seconds of the contest, Morton buried a go-ahead three for the win.
6'4 2023 Isaiah Washington (Carolina Bangles)- Another name to know in a talented and guard-heavy 2023 NC cycle, this was my first time personally evaluating Washington, and there is a lot to like and build on. Washington gave out a 24 piece and did it in style. Washington blew buy bigger defenders to the cup and drilled jumpers when the defense attempted to matchup smaller, Washington has a nice handle at this stage, reliable enough to play and flourish on the perimeter, Washington is a good mid-range shooter and has range beyond the three-point line, Washington's length and slashing ability are tough to deal with.
6'2 2022 Josh Sapp (Upward Stars Rudy)- Sapp is a big-bodied guard who plays with a nice mix of pace, power, and finesse. Sapp will five for the 50/50 balls effort isn't an issue. Sapp can score the ball efficiently too, he isn't a sharpshooter but he can make the open three. Sapp was good off the bounce, he can make shots off the dribble, and in the paint, he comes through like a wrecking ball. Sapp gives defenders no choice but to foul at the point of finish, or you may get run through because Sapp is built like a full back and will absolutely initiate the contact. All that said Sapp's most valuable asset may be his court vision and pass first mentality at times. Sapp will advance the ball to make the extra pass.
6'0 2022 Landon King (Queen City Ballers)- King is playing on the right squad cause he is a Baller, (pun absolutely intended). King was a tough cover in space, he can switch gears on defenders effortlessly, and King is extremely quick with his first initial move to beat his man. King can blow by or freeze his defender with the hesitation l. King isn't a big guard but he's creative around the cup, and despite his size King is still a reliable finisher at the cup. King looked comfortable taking and making pull up jumpers, he showed nice flashes in the pick N roll also. King will guard the ball and pressure his matchup as well.