Transfers have become a big part of off season chatter in recent years with prep hoops news adapting the year round model. Every season we see a host of prospects swap jerseys for various reasons in search of new opportunities, or sometimes to rekindle old success of the past.
This year is no different so I have taken on the responsibility of catching you up on some of the latest changes and impacts around the high school game, it's only right we start at home in the Hoop State in this inaugural edition!
Lastly before we dive in, this collection of players varies in rankings, the focus was directed towards; pedigree, play style, and, potential impact on their new programs.
2021 6'1 Jacobi Wright (Fort Mill SC)
Wright is among the elite young point guards in South Carolina, recently he had a big day at the prestigious SC Top 80 camp where he earned the playmaker award. Wright has an approach to his game way beyond his years, Wright has already been battle tested against some of the top guards in the '21 class nationally on the EYBL circuit.
No matter the stage Wright elevates his play to impact the game, Wright is a true three level scorer, he's a maestro in the pick N roll, and Wright is the type of lead guard that will make others around him better. Last season he played behind 2019 Deuce Dean on a stacked York Prep squad, learning behind an experienced floor general paid dividends. Wright was able to learn and play as a freshman that came in with big expectations, now Wright looks primed for a breakout sophomore year.
The Yellow Jackets returned an already talented roster, with Wright at the point this team could be one of the favorites to take it all this year. Last season this scrappy group saw a heartbreaking first round exit in the postseason, a year older and wiser they may finally have the star power needed to elevate to the next level.
2020 6'10 Isaiah Todd #1  (Trinity Academy NC)
Todd is one of the biggest names in high school basketball period, some experts consider him to have the most upside of anyone currently in the prep ranks. At 6'10 Todd can play down low and on the perimeter. Todd should be the focal point from day one, around the cup Todd finishes with either hand, he's got some back to the basket moves, and Todd isn't afraid to tear the rim off.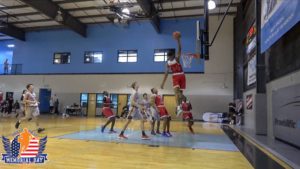 On the perimeter Todd is capable of taking his man off the dribble, he can shoot it off the dribble consistently, Todd will stretch the floor as well with his touch from deep. Todd has put an emphasis on adding muscle to his slender frame, added weight should make him an even bigger problem on the boards. Todd has rare length even for his size, a massive wingspan and elite mobility should allow him to send plenty of shots into the stands.
Todd is more elusive than most bigs and he covers a lot of space extremely quickly. Todd will join a program looking to turn things around in a hurry, there will be a lot of eyes on him this season. The Acc attention should pick up even more with the move to the hoop state, most recently Roy Williams of North Carolina offered the Baltimore native.
2019 John Michael Wright #31 (Fayetteville Academy NC)
After departing for a season to Northwood Temple Wright will rejoin a program he's very familiar with. Two seasons ago Wright was a starter for Fayetteville Academy and his return could be perfect timing for the Eagles. Last season Fayetteville Academy was led by a strong front court but 2019's Immanuel Izunbor and William Onyeodi struggled to get the ball from the guards at times, with the presence of Wright the Eagles have a capable playmaker.
Wright has been making the adjustment from scoring combo guard to full on floor general, I wouldn't be surprised to see a special senior season. Wright has become a better decision maker with the rock, he will look to get these big men going early and often. Wright will also keep the defense honest with his scoring ability, he's an explosive athlete off the bounce and Wright will make open shots if the defense plays too far off.
This is a good fit for many reasons, there is already familiarity and the Eagles fast paced style suits Wright's strengths well. Wright is one of the better guards in Fayetteville, and this squad shouldn't be overlooked. They are going to be talented and scrappy, I believe the Eagles are going to make teams work this season.  
2019 6'6 Juwan Gary #3  (Liberty Heights NC)
Gary the third ranked prospect in our 2019 NC class is an absolute dog and he's immediately one of the top players in Charlotte. Last season Gary dominated for Gray Collegiate in South Carolina, he racked up some hardware and now he's come to invade the hoop state. Liberty Heights will have to replace some key departures, but Gary is more than capable of leading this team back to the levels of success the Cardinals are accustomed to.
Gary will be the top scoring option and he will embrace guarding the opposition's top player nightly, Gary has been on another level since Peach Jam he's been more aggressive than ever.  Gary looks even more polished offensively, and he's remained confident regardless of who's checking him. Gary is a player who will lead by example on both ends.
The Alabama commit won't have to do it alone, the Cardinals will also feature 2020 Kahari Rogers, 2019 Deuce Dixon, and the x-factor 2019 Deante Petree. Many in the QC are familiar with Gary already, he's one of the top prospects in the Team United program, he offers up another athletic, versatile wing for this group.