This past weekend Phenom Hoops traveled down to the Rock Hill Sports and Events Center in Rock Hill, South Carolina for our Phenom Challenge. There was an obvious amount of talent in the gym, which led to numerous standout performers across the weekend. This article will take a closer, more detailed look at some of those personal favorites…
6'2 '23 Treymane Parker (Fayetteville Flash)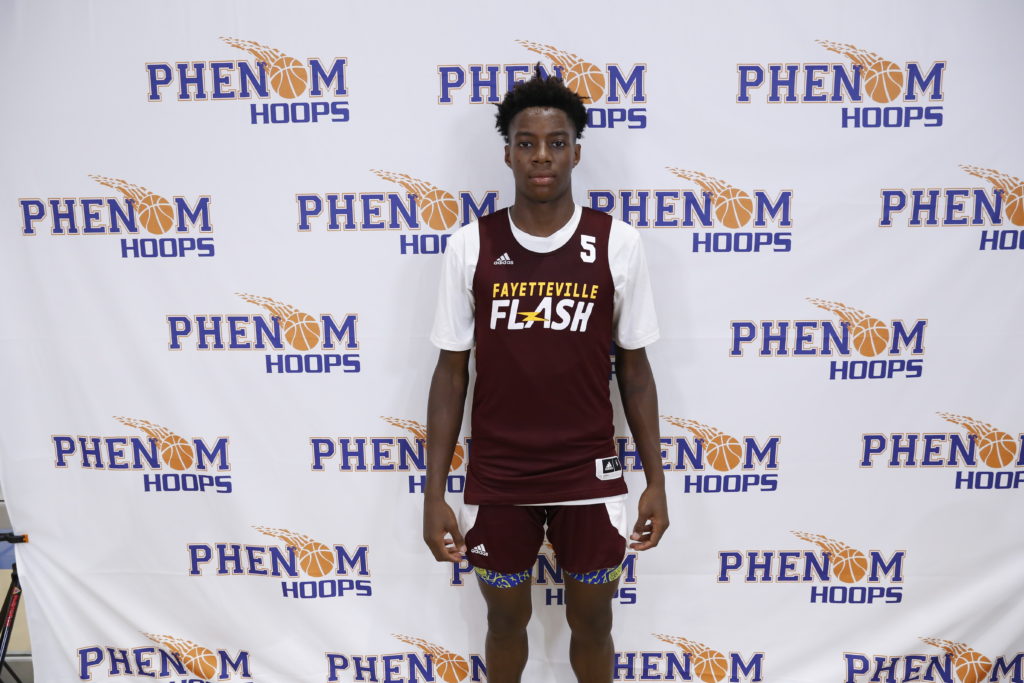 The top guard grouping in North Carolina's Class of 2023 has become a popular topic of discussion over the recent months, but Treymane Parker simply is not getting enough respect within those conversations. To call him anything less than a top-five talent in the state would be comical and truly disrespectful, especially given his talent, production, and continued upside. In terms of pure basketball ability, Parker is easily one of the most special prospects in the region. Folks are aware of his family ties but still somehow overlook his dominance. He's incredibly smart and instinctive on the court, able to legitimately carry a team while controlling the action in all facets of the game. The way Parker sees the game is very unique, as he understands how to access angles and make plays that others simply cannot. He's a brilliant passer that sees the entire floor at all times and makes the correct decision without fail. Parker is a noted athlete but arguably impresses even more with his leadership and overall skill level. He's an efficient all-around scorer that knows how to mix it up with regularity. Unlike many talented prospects, Parker shows a desire to defend and rebound—and he's excellent in both areas. Parker is possibly underrated at this point, which seems almost insane. However, Division I coaches should still start prioritizing immediately, as it's going to pay massive dividends for one lucky suitor.
6'9 '22 Jai Smith (Tea Marie)
While there were many impressive performers on display, Jai Smith makes this list for a second consecutive week after being the most unstoppable player in the gym throughout the event. Though he already has multiple high-level offers, it's genuinely shocking to see how few schools are involved with the explosive big man. Smith is long and athletic, but thrives in every setting due to being able to embrace his role and identity on both ends of the floor. He moves extremely well for his size, both in space and when running the floor, and simply appears more fluid than majority of the top post prospects in the country. Smith truly dunked and blocked everything in sight, but also highlighted a reliable perimeter jumper on multiple occasions. He utilizes his length very well and, although quite strong, should only continue to add strength to his wiry frame. Between his size, fluidity, rebounding, rim-protection, and sheer interior presence, it would be shocking if Smith doesn't get flooded with offers over the coming months.
6'10 '22 Corneilous Williams (TLBA)
Each year, we see various prospects burst onto the scene, blow up out of nowhere, and collect a ton of offers. It would seem that Corneilous Williams is currently in the midst of that process and only going to continue attracting Division I coaches. He's long, athletic, and so incredible around the basket as a direct result of his nonstop motor. Williams is a defensive menace with excellent timing as a shot-blocker and the ability to effectively anchor the paint. He showcases high-level instincts as a defender and utilizes his length at the rim as well as anyone. Williams is somewhat of a perfect big man to pair with passer-friendly point guards like Camian Shell and Hamilton Campbell. He always knows where to be and how to properly position himself for finishes within the two-man game. Williams runs the floor well in transition, consistently gobbles up rebounds, and offers a pretty low-maintenance role with this group (while also being an obvious leader and tone-setter). It's easy to see what has led to his accumulation of offers, and that should continue at a steady pace over the next calendar year.
6'7 '21 Sam Alajiki (WV D-UP)
Being a native of North Carolina and building a reputation over the years is challenging enough, so imagine the difficulty of entering the country at the beginning of 2020 and trying to receive appropriate recognition. That's exactly what Sam Alajiki has done. He came over earlier this year as a young man with an obvious amount of raw talent, but lacked the necessary polish and cohesion to truly showcase the full extent of his capabilities. Fast-forward eight months, and it's easy to see why a handful of Division I programs have already gotten involved. Alajiki has all the physical attributes that college coaches should want in a wing prospect, especially given his combination of size, length, and athleticism. He plays with a phenomenal motor at all times and really understands how to utilize his effort and physicality to overwhelm his on-ball assignment defensively. Alajiki has also made strides as a ball-handler and overall creator. He still looks to attack the basket whenever possible but has the ability to knock down jumpers at a quality rate. Expect continued developments in his defensive awareness and creation skills, but his current body of work should certainly be enough appeal for a variety of programs to lay groundwork.
6'3 '21 Janyle Pittman (Carolina Pressure)
In all honesty, there were (at least) a handful of Carolina Pressure prospects worthy of making this list but Janyle Pittman was simply too impressive to ignore. On paper, Pittman simply shouldn't be this incredible, but he's truly defied the odds and has the undeniable production to back him up. He's always been a long, exciting athlete with an exceptional motor and the ability to consistently affect all facets of the game. Pittman is virtually unstoppable at getting downhill, strong-arming opponents, and finishing over or through any amount of contact. He's extremely smart and embraces his natural identity as an absolute menace on both ends of the floor. Pittman can reliably defend, and overwhelm, three to four positions while standing out as a terrific rebounder. He's slightly undersized for how he plays, but seems to have no issue outperforming all types of opponents—even those with so-called "more appeal." Though Pittman already possessed a useful jumper, his improved creation skills and shooting off the bounce added another wrinkle to his game and made him even tougher to contain. The fact of the matter is that Pittman is simply better than any measurement could define and should have a variety of scholarship-level programs vying for his services.