This past weekend, Phenom Hoops traveled up to the Virginia Beach Sports Center in the heart of Virginia Beach for our 757 Showcase. The event featured many teams from throughout the state, but still featured many returning squads from North Carolina. There were numerous standouts over the three-day stretch, and this article will take a closer look at some personal favorites…
6'7 '22 Davis Molnar (Team Wall)
There was plenty of talent on display in Virginia Beach, and Davis Molnar was arguably the top prospect and performer in attendance. It's just so easy to appreciate his unselfish, versatile, passer-friendly game as a 6-foot-7 walking mismatch. First of all, Molnar is (without question) one of the top passers across the Carolinas—regardless of size, position, or anything else. His vision, leadership, and incredible playmaking sense add such a unique element to his overall identity. Molnar is a three-level scorer, but shows a clear preference of getting downhill and attacking the basket whenever possible. He finishes very well through contact, but also makes sharp reads and will set up others in ideal scoring positions. Molnar is genuinely capable of bringing the ball up and running the offense as the primary creator, as he showed throughout the event. He can also operate with his back to the basket or find opportunities as a cutter or spot-up option. Molnar rebounds very well and reliably pushes the break in transition, which only further solidifies his rare blend of skills. It's really difficult to overstate how impressive he's been over the last year, which should resonate with various types of Division I programs. 
6'7 '23 Austin Ball (West Virginia Generals)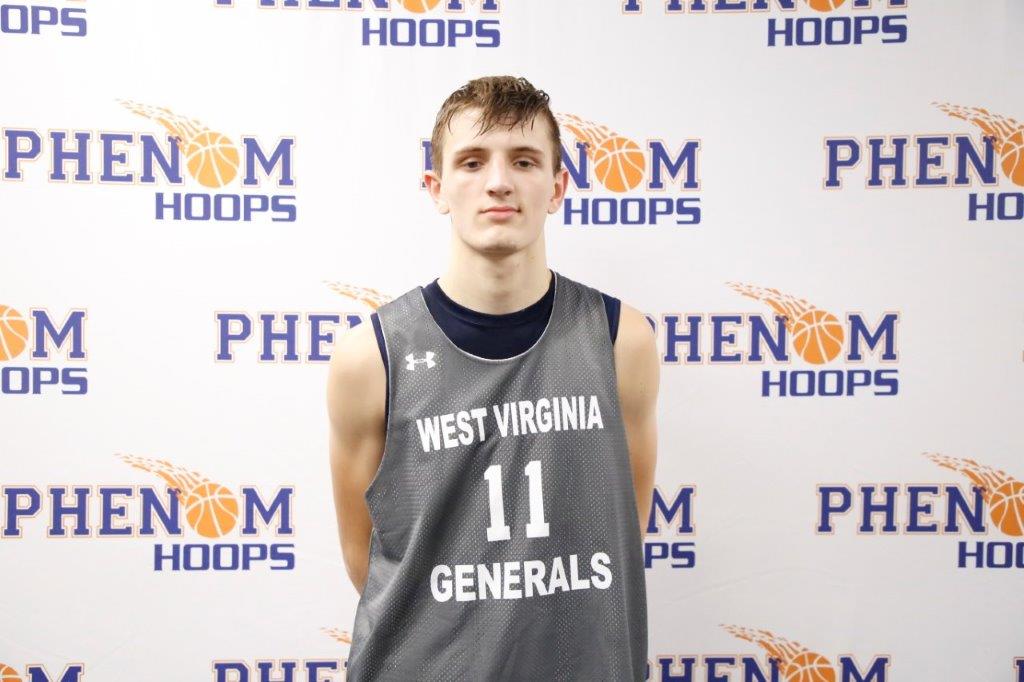 The idea of Austin Ball reclassifying should place legitimate fear into whoever plans to oppose him over the next two years. Always very skilled and versatile, he noticeably vaulted his recruitment forward by making the move. Ball already possessed a lot of enticing qualities and overall appeal as a well-rounded offensive weapon. However, his transition from a quality three-point shooter to an incredibly lethal one has been something worth seeing. Ball is nearly uncontainable as a long, wiry, 6-foot-7 wing/forward with an absolute flamethrower and the necessary quickness on his release to get off clean looks against any type of opponent. He's way taller than most wings and way too mobile for most interior players, which leads to mismatches on a regular basis. Ball can initiate the offense, move without the ball, or whatever is required to elevate this short-handed squad. He displays nice defensive instincts and rebounds the ball at a solid rate, but understands his strengths and overall calling card as an offensive machine. Again, Ball's reclassification should have the attention of numerous programs at the Division I level.
5'10 '22 Jacob Cooper (Team Loaded 804)
There were a lot of floor generals on display, but arguably none more impressive than Jacob Cooper. He was one of many quality guards in a backcourt overflowing with talent, but still managed to apply constant pressure as a focal point. Cooper is crafty and shifty, which proved to be a dastardly combination for opponents to try and contain. The opposition was unable to prevent the small, smart, skilled lead guard from picking his spots and getting wherever he wanted on the floor. Cooper displays a tight handle and the change of direction to effectively create separation, which opens up angles and leads to quality looks for himself and others. He's very fast in the open floor, but also has no issue generating opportunities in the half-court. Cooper finishes well for his size, but typically looks to overwhelm opponents with a flurry of midrange pull-ups and reliable jumpers from beyond the arc. He passes the ball very well and understands how to elevate his teammates as a playmaker. Additionally, Cooper utilized his quickness to intercept passing lanes and force on-ball turnovers. He will certainly be a prospect for scholarship-level programs to target over the next twelve months.
6'3 '22 Amari Pearson (Team Wall)
Although other notable Team Wall players like Perez or Harkins could've easily appeared on this list, Amari Pearson gets the nod for his sheer consistency throughout the weekend. Not only did he stand out, but Pearson regularly showcased flashes of dominance on both ends of the floor. His foundation over the years was largely founded on toughness, athleticism, and defensive prowess. However, Pearson showcased the full arsenal as an integral part of this group. He maintained his overwhelming defensive presence (which led to an abundance of forced turnovers and easy transition play), but also displayed so much poise and polish as an all-around offensive cog. Pearson frequently created off the bounce, set up his teammates, and found ways to assert himself as a scorer from multiple levels. He knocked down shots at a very high percentage, made smart decisions with the ball in his hands, and finished through contact or above the rim whenever he wanted. He's great in transition, both as a passer and finisher, and understands how to outwork opponents for extra opportunities. Pearson's feel and overall presence were evident on both ends of the floor, and scholarship-level coaches will only continue to take notice.
6'3 '24 Tybo Bailey (Team Loaded Virginia)
Despite being the youngest prospect on this list, there's already a variety of enticing qualities and attributes in Tyler "Tybo" Bailey. He's always possessed a very mature, polished identity—even as a middle-school player—and has only furthered this sentiment with his current level of play. Bailey possesses a pretty complete skillset, especially as an all-around offensive weapon, and is capable of being the primary option within an efficient scheme. He's an effortless creator (both for himself and others) with the necessary combination of IQ, vision, and craftiness to legitimately shine—regardless of opponent. Bailey is so active and polished that opponents are forced to account for him at all times, or else they will suffer the consequences of allowing easy buckets. That being said, he also stands out as a consistent rebounder, quality defender, and overall leader on both ends of the floor. Bailey continues to highlight the makings of a special player, so it'll be exciting to monitor his progression going forward.