Battle at the Rock "Thoughts, Takeaways and Stock Risers"
Be sure to check out Coach Rick's Top 15 Performers at The Battle at the Rock https://phenomhoopreport.com/battle-at-the-rock-coach-ricks-top-15-performers/
The Second Annual Battle of the Rock was yet again another high profile, high level, action packed event. Some of the top teams and players were in attendance and special thanks to the York County Visitors Bureau for being great hosts for this growing and prestigious event. Now, let's take a closer look at our thoughts, takeaways and stock risers.
Moravian Prep is the best team the national pundits aren't talking about
Coach Antonio Lowe has developed the reputation of playing anyone, anytime, anywhere mentality and yes, he will push his team to the limit in terms of scheduling. You do those type of things when you want to gain national attention and respect. Moravian Prep played a brutal four games in three days. Splitting time between the Battle at the Rock and the Bojangles Bash, Moravian Prep opened up with an impressive 75-67 win over national ranked Dream City (AZ) on Thursday. On Friday, Moravian Prep made the trek from Rock Hill to Columbia and beat another strong and talented Aspire Academy team by the score of 96-66. On Saturday morning, Moravian made the return trek to Rock Hill to take on another strong and national level team. Playing at the 10:00am game, Moravian Prep beat Arizona Compass Prep by the score of 95-73. After the game, Moravian Prep had little to no rest time as they had to make a return visit to Columbia and play in the Bojangles Bash at the 3:30pm time slot. There, an exhausted and tired Moravian Prep team found the resolve and pulled out another impressive win (68-66) over Orangeville Prep, who is considered one of the top teams in Canada. Now, Moravian Prep stands with a 13-0 team and should be in the national conversation as one of the top teams in the country. It's time to give coach Lowe the proper credit he deserves. He has built a special team in a very short period of time.
Josh Hall takes his game to another level
We have seen and covered Josh Hall since his middle school days with the Durham Hurricanes. Josh Hall went from a prospect with very few collegiate offers to one of the most talented players in the country within a one-year time frame. Through patience, hard work and dedication, Josh Hall has taken his game to another level. Now, he is in the discussion with his rapid development as a possible "one and done." In the game Saturday morning, Josh Hall had his statement signature performance that will go down as one of the best individual high school performances we have ever seen. Hall finished with an impressive 51 points going an efficient 16-23 from the floor, 5-8 from the 3-point line, 14-17 from the free throw line. In addition, Hall collected six rebounds, dished out four assists and even had two steals. His game has evolved and continues to evolve, but one thing is crystal clear; Josh Hall has taken his game to another level and should be in the national conversation as a legitimate top 25 prospect.
Steve Smith brings a level of humbleness, honesty and professionalism
Coming into the Thursday night contest, Dorman was ranked no. 25th by Max Prep while Oak Hill was ranked 19th. Dorman was playing in their home state and was the crowd favorite, something Oak Hill has become accustomed too. Oak Hill has become everyone's "Super Bowl" game and this game was no exception. Playing at home on Wednesday night, Oak Hill had a "revenge" win over Combine Academy earlier in the year. Having already committed to two games at the Bojangles Bash, Steve Smith being the person he is, agreed to add and play another game sandwiched in between. In the game against Dorman, Oak Hill prevailed with a signature 63-52 win and heads into the holiday break with an impressive 17-1 record. It was a tough, defensive battle for the majority of the game where Oak Hill held Dorman to 19-61 from the floor for 31.1% shooting percentage, however the biggest storyline was legendary coach Steve Smith was coaching in tremendous pain as he was dealing with painful kidney stones and from his movement on the bench, you could see and sense the pain and anguish in his facial expressions. That being said, coach Steve Smith didn't once complain, which is a testament to him as a person. Never one to make excuses, Steve Smith brings a level of humbleness, honesty and professionalism to the coaching profession. What he has done at Oak Hill continues to be one of the greatest success stories at the high school level. Coach Steve Smith is a Hall of Fame coach, but even a better person and that alone speaks tremendous volume.
The Growth of Coach Jeff McInnis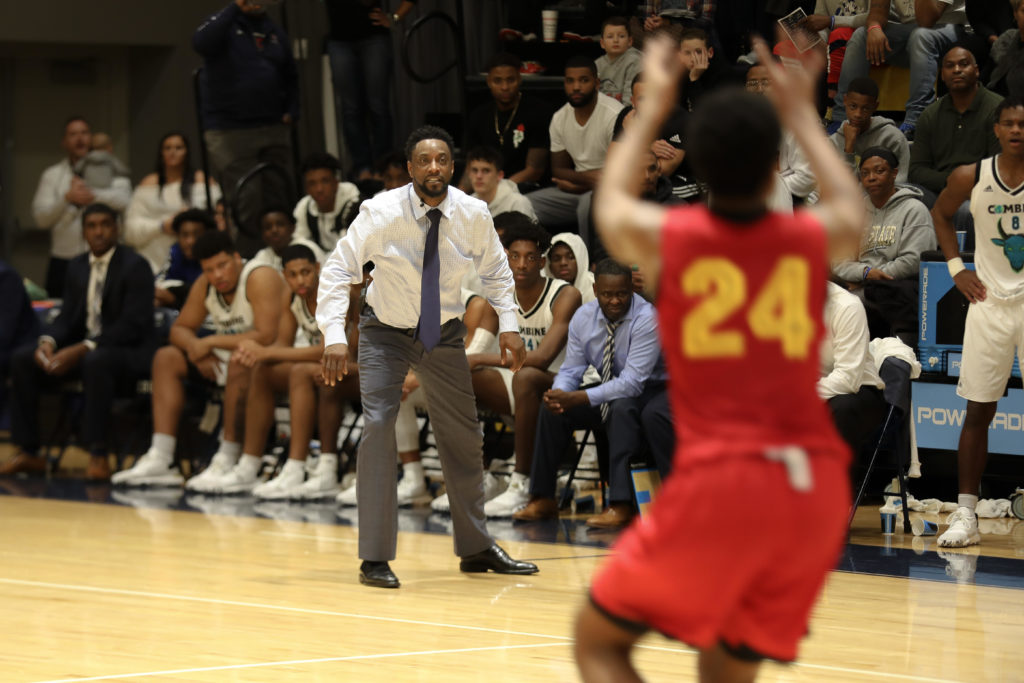 What Jeff McInnis has done at Combine Academy in two short months is simply short of amazing. That being said, no one will be more upset and disappointed in their heartbreak 61-57 loss to national ranked Dream City (AZ) on the final day of the Battle at the Rock. This game is like many of the games they have faced are against national level teams. On paper, they should not be as competitive as they have shown, but again, we are talking about Jeff McInnis! He is one of the most competitive coaches nationally at any level. He has a unique gift and that is maximizing and getting the most out of his talent. Only having one known national level prospect at the current time, it was his team's youth and an apparent "tone deaf" official to turn an apparent win into a loss. With a one-point lead and Dream City having a chance to win the game, Combine secured the rebound as coach McInnis was screaming for a time out. During this stretch, Combine made a costly turnover which created the go ahead and winning basket. After beating his former alma matte Oak Hill at the Carmel Christian Tip Off Classic, McInnis and Combine Academy has played one of the most challenging and difficult schedules in the country. Not too shabby, for a first-year program. Yes, Combine Academy is building for the future, but for coach Jeff McInnis, the future is the now. He is concerned about one thing and one thing only, securing their next win. That being said, his coaching resume is growing game by game and has quietly become a star at the high school level.
Coach Rob Salter can flat out coach
Last season, Greenfield went 33-5 and won the NCISAA 1A state championship. The previous two years, Greenfield was state runner-up's and look again to be in the conversation as the top team in the state in the NCISAA 1A. This year like every other season, coach Rob Salter likes to play a challenging schedule and the two loses this season are to Cannon and Farmville Central, which are two of the better teams in the state. In the Saturday finale at the Battle at the Rock, Greenfield was playing without Wake Forest signee Dji Bailey who was sidelined with a bruised rib. In the first half game on Saturday against South Pointe, Greenfield came out a little flat in the first half. Not sporting a very deep bench, coach Salter decided it was time to push the tempo with their pesky and pressing defense, which resulted in a big 23-point third quarter. This year's team is built on balance with the entire starting five averaging between 13 and 17 points per game. Coach Salter has done a masterful job of getting the players to buy into the "team first" approach, often sacrificing individual accolades for the betterment of the team.
Girls basketball brings a big crowd
Kudos to the York County Visitors Bureau for having the foresight of hosting girls' games at the Battle at the Rock. While the majority of girls' games were played in the auxiliary gym which has a 750 seat capacity. All the games were intense, exciting and played before a standing room only crowd. We had the opportunity to see some very talented young ladies and many will be playing at the collegiate level.