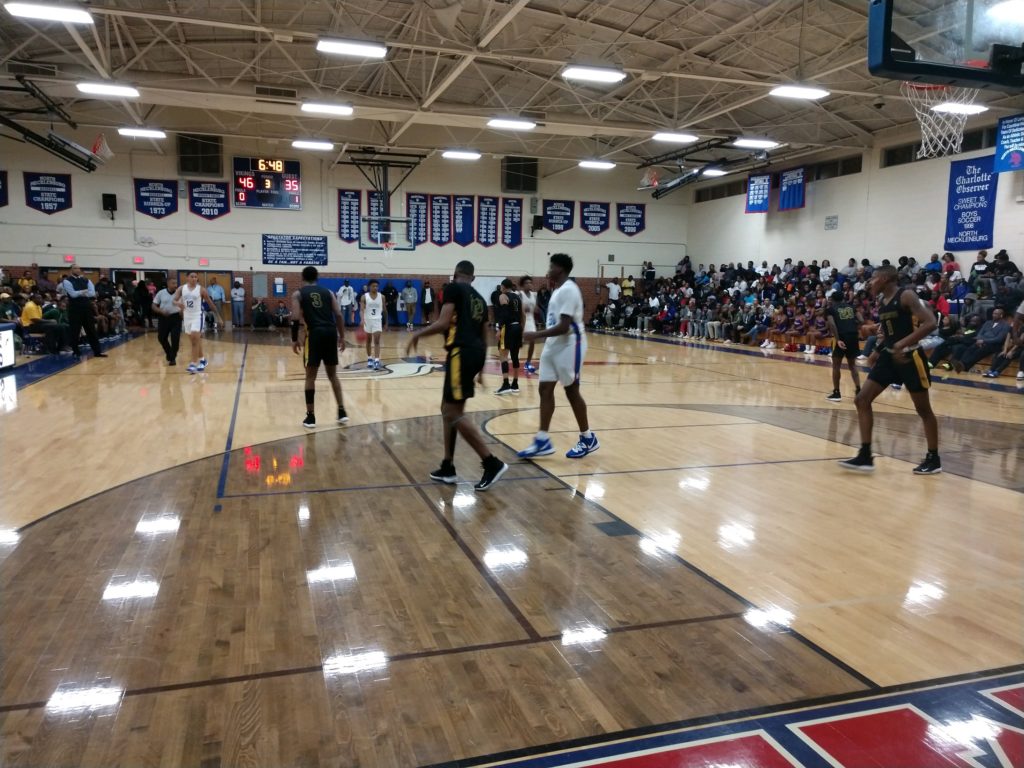 | | | | | | |
| --- | --- | --- | --- | --- | --- |
| | 1st Quarter | 2nd Quarter | 3rd Quarter | 4th Quarter | Final |
| North Meck | 25 | 17 | 17 | 20 | 79 |
| Independence | 16 | 17 | 12 | 10 | 55 |
North Mecklenburg
2020 G Tristan Maxwell:
Maxwell started out slow and sat most of the second quarter but he came out strong in the second half on his way to 19 points. Maxwell continued to play his game, knocking down big shots and scoring inside and out. He hit multiple pull-up 3-pointers with confidence but he also used his strength to finish at the rim multiple times. He also attacked the boards really well in the victory.
2020 G Trayden Williams:
Williams got North Meck off to a hot start and really controlled/ pushed this offense for much of the night. He set up his teammates well, found small openings, and worked really well in the pick-and-roll, mid-range game. He also was solid defensively, turning his defense into offense with transition points. He finished with 20 points to lead the team.
2020 G Shamann Artis:
He was just another guard that hounded Impendence defensively and knocked down outside shots on multiple occasions for North Meck. The three guards really propelled North Meck to the win, as Artis finished his night with 12 points.
2020 F Chris Ford:
It wasn't the best of nights for him but he never gave up and continued to fight.  He struggled at the line tonight but still was able to finish strong around the rim as well as get to the free-throw line and rebound well.  Look for him to bounce back but still finished with 10 points.
Independence
2020 G/F Nygell Verdier:
He was one of the go-to players and with his 6'5 frame and ability to step out, as well as attack created a lot of trouble. He was also in charge of trying to defend Tristan Maxwell as well at times. Verdier played really well both on and off the ball, being able to create and break down small defenders and get to the paint, as well as step out when the opportunity was there. He played under control and tough all night long for Indy. He finished with 19 points.
2020 F De'Drick Givens:
Givens was the other force for Indy and though he is only 6'5, he can create mismatches vs. opponents because of who he matches up with. He plays strong vs. small defenders but steps out and shows his quickness, putting the ball on the deck and embracing the battle down low. He was simply tough all night long on his way to 15 points. College coaches should be keeping an eye on him this year.
2020 G Anthony Allen:
It took Allen a little time to get going but he did put some impressive minutes together, especially when Indy was looking to make a run. He handles pressure well and is crafty with the ball in his hands; he looks to make plays both scoring and facilitating. When he scored in this one, it was mostly the outside shot that he was able to create space and knock down, on his way to 12 points.